The Sizzling Queen of the Drag Racing Scene in the 1970s: Jungle Pam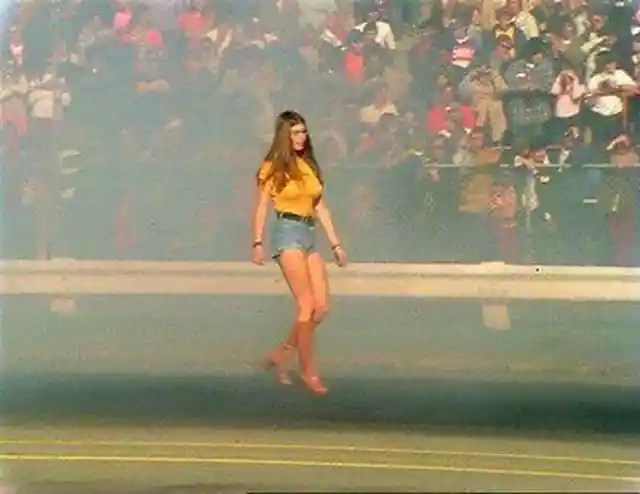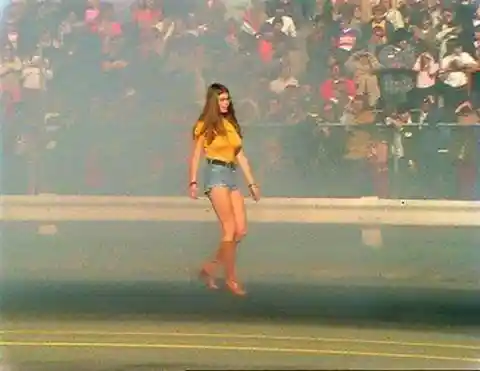 source: pinterest
Back in the roaring '70s, the drag racing tracks had their own brand of sizzle, and her name was Jungle Pam. This drag-racing darling was the talk of the 1970s. The Funny Car fans would swarm to the races, not just for the thrill of the sport but to catch a glimpse of her working alongside "Jungle Jim" Lieberman, a legend in the drag racing world. Pam, oh she had a style that could stop you in your tracks - think short shorts or mini-skirts, those iconic go-go boots, and a smile that could, quite literally, rev engines.
Those were the days when drivers were their own marketers, and having Pam on the asphalt was like Jungle Jim's stroke of genius. She was like a magnet, drawing all eyes to every race he competed in, and boy, did she raise the profile of the Funny Car scene.
But let's not get it twisted - Pam was far more than just a pretty face. She had this flair, a showmanship that was all her own. With every crouch by the cars and flash of her dazzling smile, she kept the audience glued to their seats, their eyes following her every move. She wasn't just part of the show; she was the show, bringing life and excitement to the action on the track.
Lynda Carter's Splash in the 1976 Battle of the Network Stars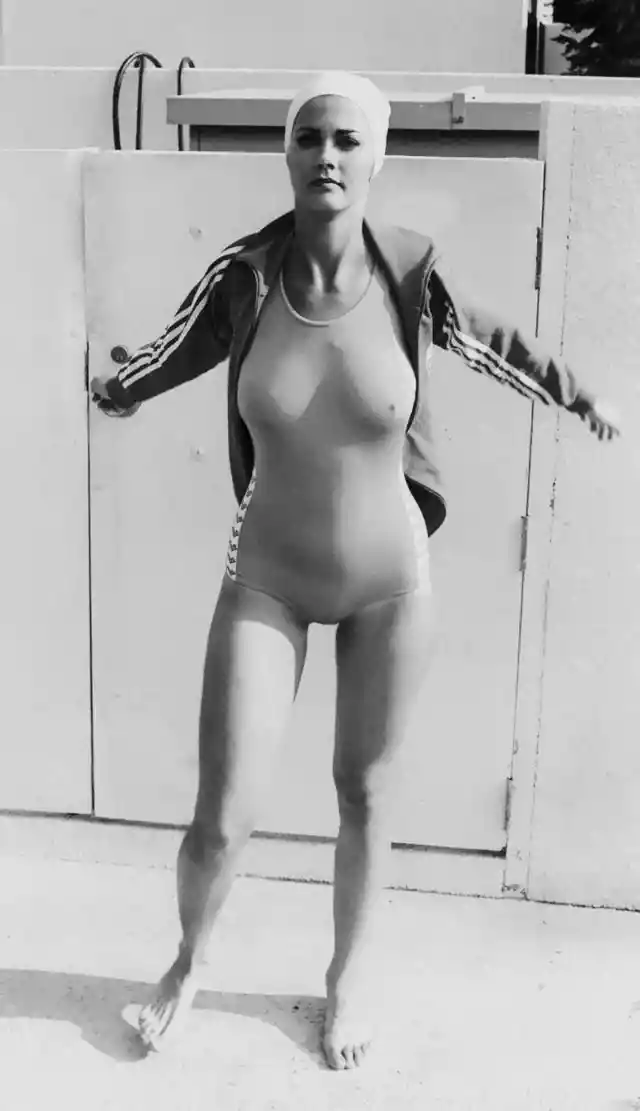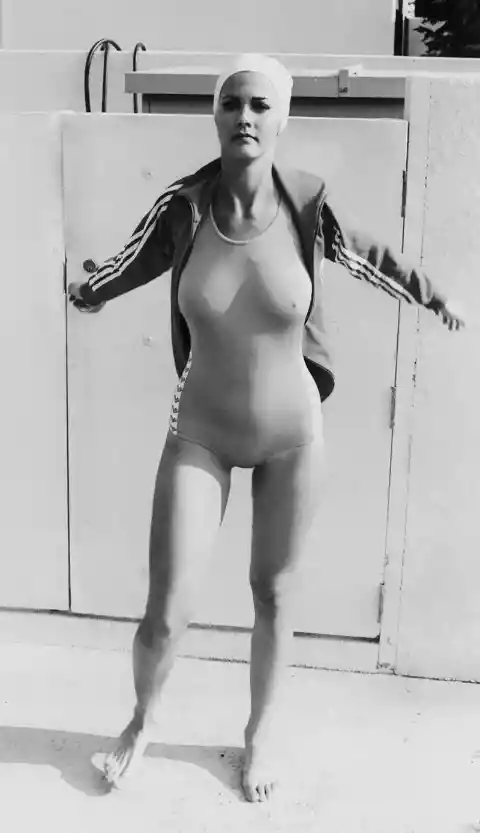 source: ABC
Imagine a time when TV was more than just flipping channels. From 1976 to 1988, ABC had this wild idea: "Battle of the Network Stars." It was like the Olympics but with a twist of summer camp fun, pitting actors from the big three networks against each other. They'd dive into everything from volleyball to tug-of-war, and all sorts of relay races. It was a spectacle!
In 1976, during the very first episode of these games, there was this team that was just stellar. Lynda Carter, Farrah Fawcett, Penny Marshall, and Ron Howard, all on one team. And guess what? They won! A big part of that victory? Carter absolutely rocked a swimming relay race. Being on that team must have felt like being part of a dream team.
And Carter, well, she's always been a knockout, but seeing her in that ABC ordained bathing suit? It was absolutely bonkers how good she looked. It was like she was made for that moment, shining bright and making that episode unforgettable.
Carol Wayne: The Bubbly Bombshell of 70s Television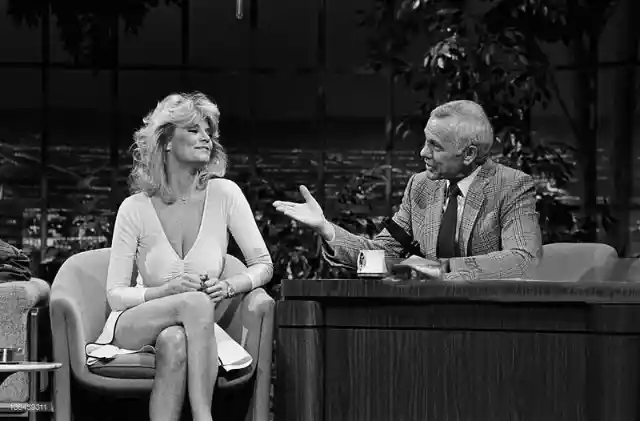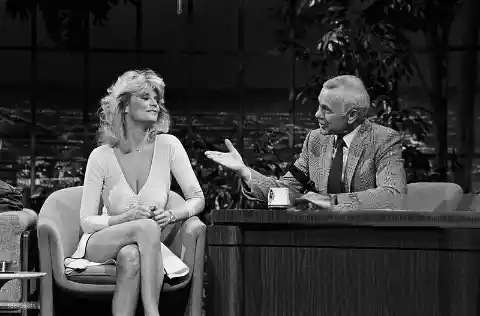 source: NBC
Back in the 1970s, if you were tuning into The Tonight Show, you'd definitely remember Carol Wayne. She was this bubbly, vivacious presence that lit up the screen. With her larger-than-life energy, she played the role of Carson's sidekick - the Matinee Lady in the Tea Time Movies with Art Fern sketch. And let me tell you, she was a hoot!
But Wayne wasn't just a one-show wonder. She was all over the place, popping up on game shows like Celebrity Sweepstakes and The Hollywood Squares. Everywhere she went, she brought this infectious, fun attitude that just made you want to keep watching.
And it wasn't just her energy that caught your attention. Carol Wayne had this knack for making everything she said sound just a tad risqué. With those "innocent" eyes and her babydoll voice, she became a TV favorite. Trust me, if you were watching her, you were probably crushing on her just like the rest of us.
Ann-Margret: Hollywood's Daring Darling on Two Wheels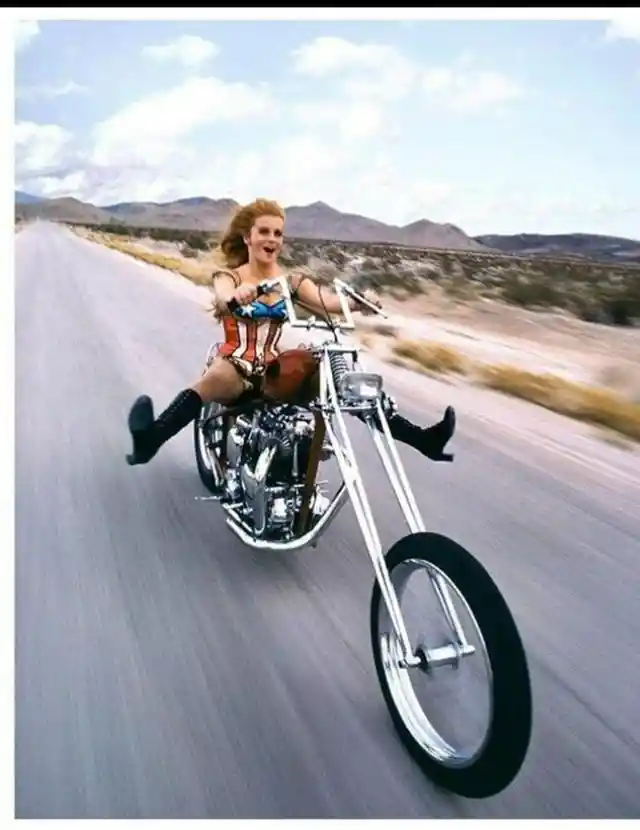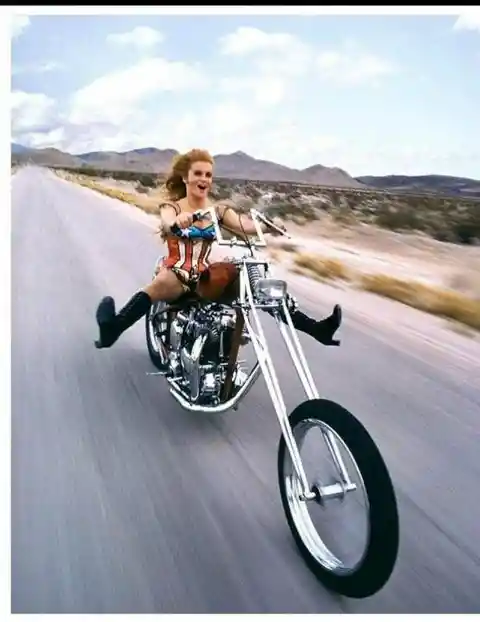 source: reddit
Ann-Margret always had this air of confidence about her, especially when she was perched on a motorcycle. That's because her love for bikes started way back when she was just a little girl in Sweden. It was her Uncle Carl who introduced her to the world of cycling. And let me tell you, the moment she felt the wind whipping through her hair, she was absolutely hooked.
Her passion for motorcycles wasn't just for show. In movies like "Viva Las Vegas" and "The Swinger," she wasn't just acting – she was in her element, riding those bikes. Sure, on set she'd ride whatever the directors handed her, but in real life? She was all about Triumph bikes. She was such a fan that she even appeared in advertisements for the company.
And get this – one of her coolest bikes was this custom Harley Davidson. It wasn't just any Harley though; it was painted lavender and covered in daisies. Talk about riding in style!
Chuck Bronson and Jill Ireland: A Hollywood Love Story Beyond the Big Screen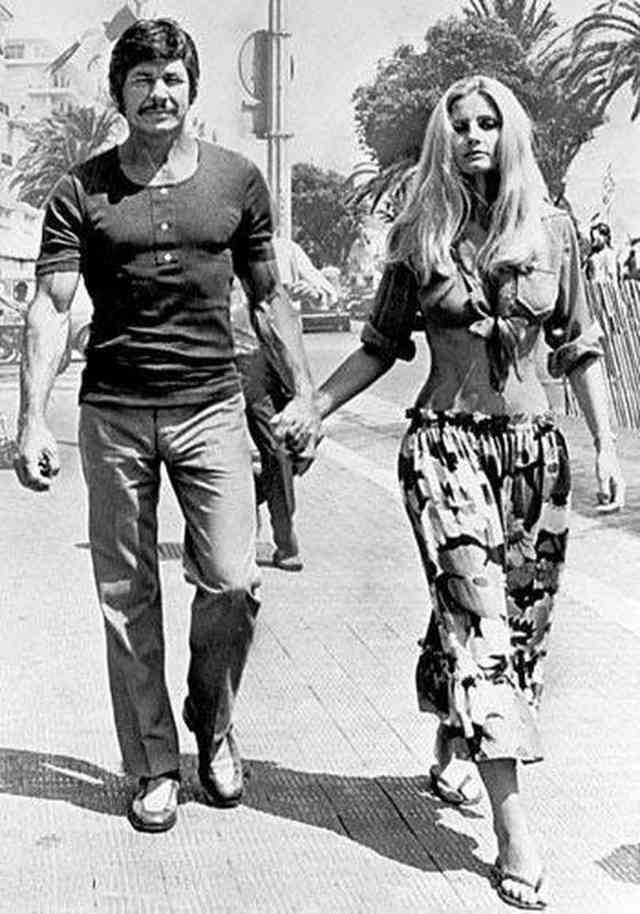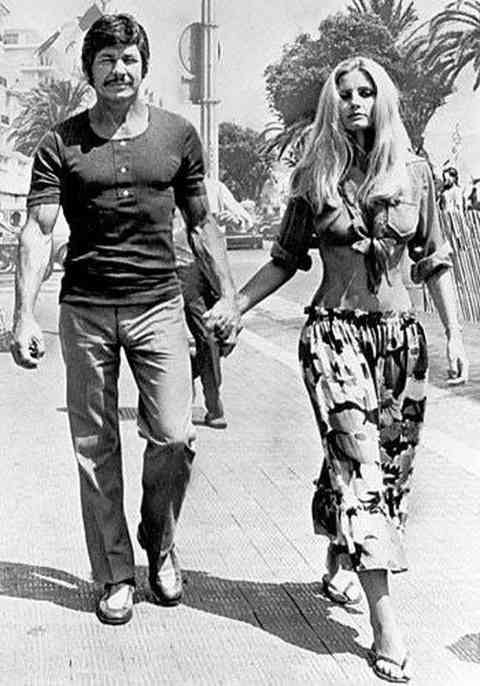 source: pinterest
Chuck Bronson, with his rugged looks and tough-guy persona, didn't exactly scream "I'm going to settle down with a sweet blonde like Jill Ireland." You'd more likely picture him with beef jerky in one hand and a Miller Lite in the other. But, surprise! Behind that macho facade, he was actually a big softie, especially when it came to Ireland.
Their story began on the set of "The Great Escape" back in 1963. Sparks flew, and five years later, they tied the knot. During their marriage, they were quite the on-screen pair, appearing in 15 films together. More often than not, Ireland played the role of Bronson's wife.
Their journey together continued until 1990, when Ireland sadly passed away from breast cancer in their Malibu home. Their love story, set against the backdrop of Hollywood, was as real as it gets.
The Hidden Struggles of Maureen McCormick: Beyond Marsha's Smile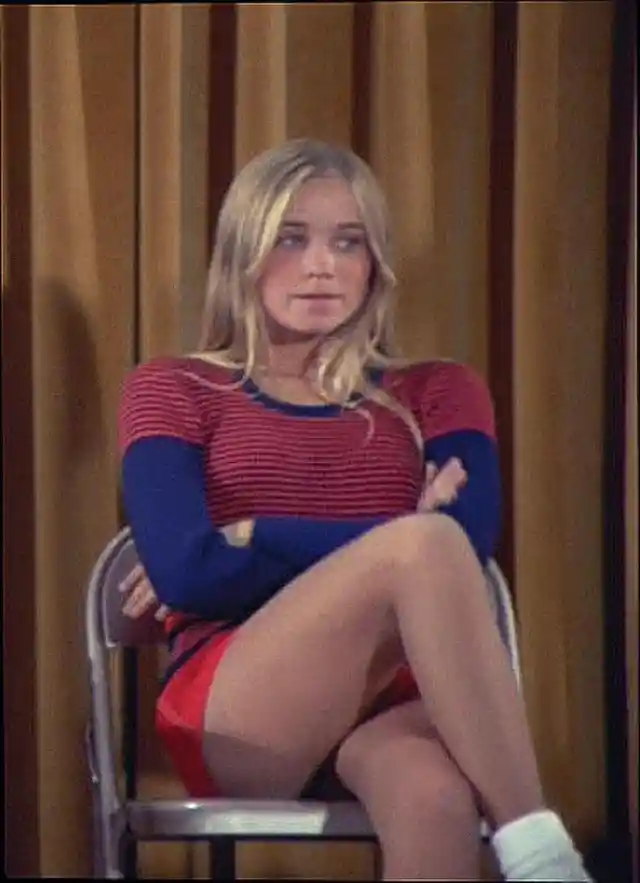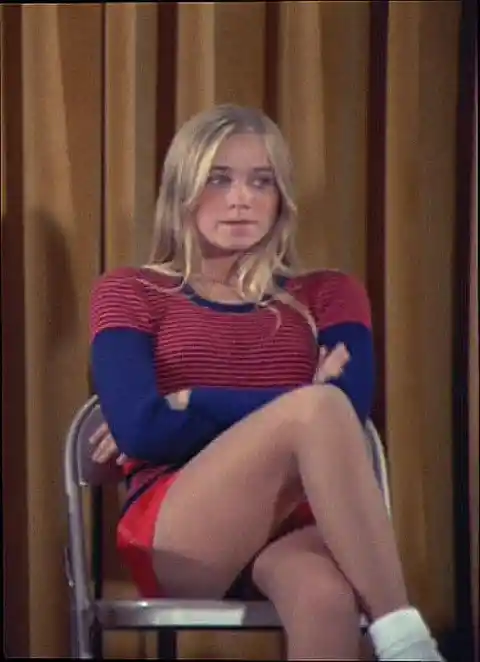 source: reddit
Maureen McCormick became the crush of many as Marsha on "The Brady Bunch" back in the 70s. But despite the fame and adoration, things weren't all sunshine and rainbows for her. The spotlight and pressure got to her, and she found herself tangled up in the world of drugs and alcohol at a pretty young age.
In a candid chat with US Weekly, McCormick opened up about how rough things got. It reached a point where her parents were at their wit's end. They were so desperate to help her that they almost turned her into the authorities. She said, "My mom and dad, they almost turned me into the cops. They were at their last … 'cause they had been trying for years and knew something was going on and I was pretty sneaky and I could hide very, very well." It was a tough chapter in her life, a stark contrast to the bright, bubbly Marsha everyone saw on screen.
Dolly Parton and Carl Dean: A Love Story Born at a Laundromat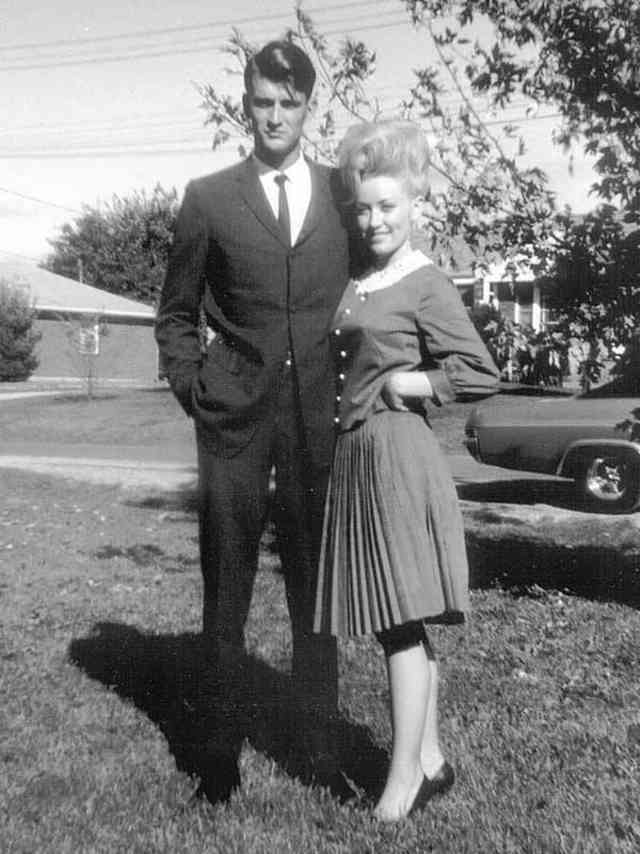 source: reddit
A young Dolly Parton, was a total knockout and on her way to becoming a legend for penning some of the most heart-wrenching love songs of the 20th century. But instead of a string of dramatic romances, she's been with the same guy since 1964. Yep, you heard that right.
The story of how they met is something straight out of a movie. It was 1964, and Dolly was just 18, fresh in Nashville and standing outside the Wishy Washy laundromat. She was there to do something as mundane as washing her clothes, but fate had other plans. That's where she bumped into Carl Dean, a 21-year-old asphalt salesman. For Carl, it was love at first sight. He says about that moment, "My first thought was I'm gonna marry that girl. My second thought was, 'Lord she's good lookin.' And that was the day my life began."
And just like that, in the most unexpected of places, Dolly Parton found her lifelong partner. It's one of those love stories that makes you believe in destiny.
Lynda Carter's Transformation: From Diana Prince to Wonder Woman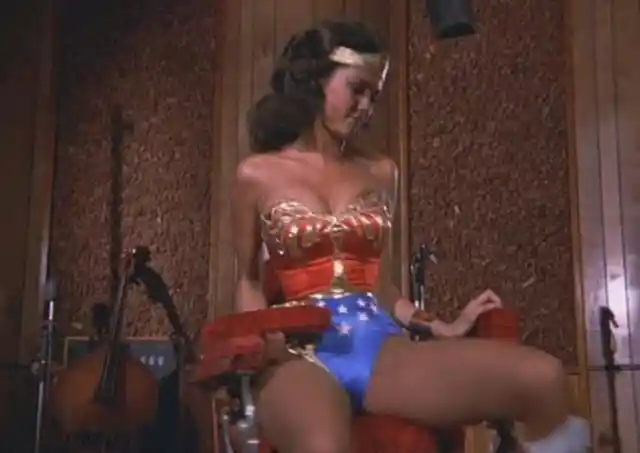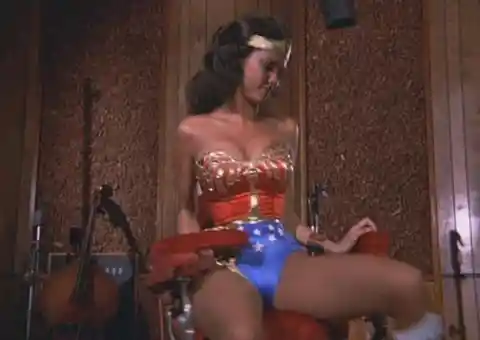 source: ABC
Throughout the late '70s, Lynda Carter, as Diana Prince, also known as Wonder Woman, was capturing hearts left and right. Her journey as this iconic character began with a TV movie titled "The All-New Original Wonder Woman." This movie was then cleverly transformed into a series of one-hour specials, and before we knew it, Carter was dazzling viewers on ABC as the full-fledged Wonder Woman.
Now, you might wonder, what was it about this series that had everyone hooked? Douglas S. Cramer, the executive producer, had a pretty insightful take on it. He believed it was the character of Diana Prince, not Wonder Woman, that really resonated with the audience. He said, "There really was the sense that this plain, ordinary woman Diana Prince could turn into someone special like Wonder Woman. This aspect, which gave hope to many who were without hope, was really at the heart of the show's appeal." It was this transformation from the 'ordinary' to the extraordinary that captivated viewers, giving hope and inspiration to many.
Claudine Auger: From Beauty Queen to Bond Girl in 'Thunderball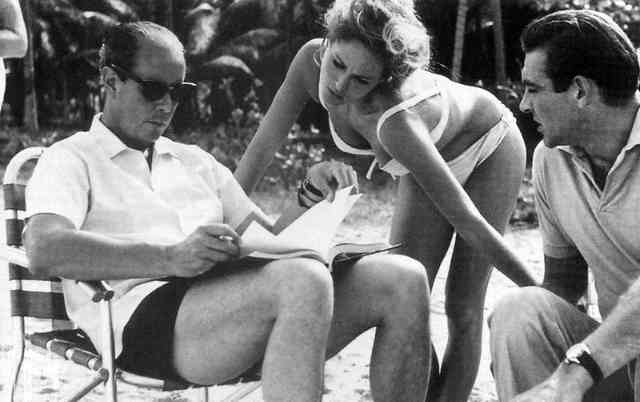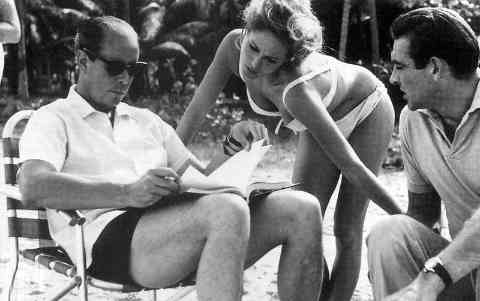 source: pinterest
The perfect setting for a spy movie – the Bahamas in the 1960s. This is where the most gripping scenes of "Thunderball" were set, with its breathtaking beaches and azure waters creating a backdrop that was nothing short of cinematic magic.
Amidst this paradise, there was someone even more mesmerizing – Claudine Auger. This French-born actress wasn't just any starlet; she was royalty in the beauty pageant world, having been crowned Miss France and snagging the first runner-up spot in the 1958 Miss World pageant.
The role of Domino in "Thunderball" was highly coveted, with several actresses vying for the part. But Auger's fate changed when she happened to cross paths with producer Kevin McClory. He was so struck by her presence that he offered her the role right then and there. He reportedly said, "she just needed to look good in a bathing suit," and Auger, with her grace and poise, fit the bill perfectly.
Sonny and Cher: A Blend of Unconventional Style and Unwavering Confidence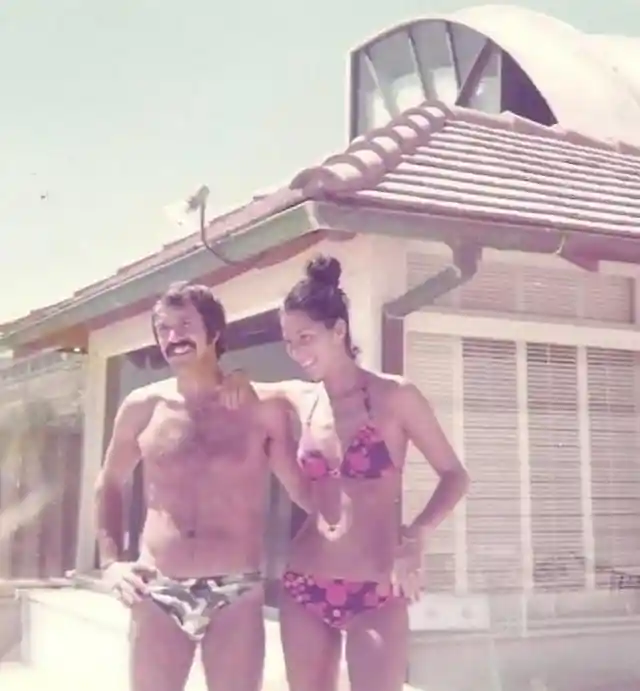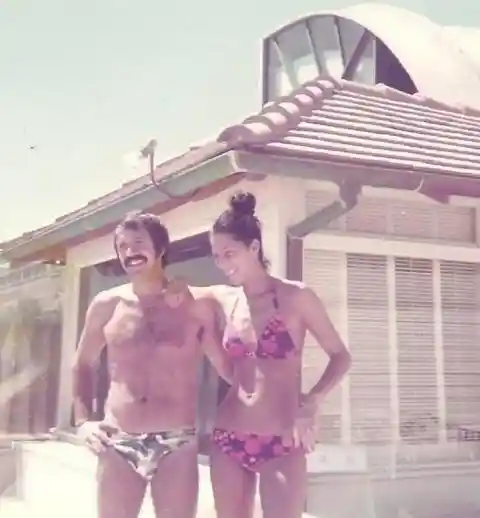 source: reddit
Back in the swingin' '60s, during the "I Got You Babe" era, Sonny and Cher were quite the pair. They had a style that was, let's say, unique. Of course, they had their fair share of critics who loved to poke fun at their unconventional looks. But hey, isn't that just what happens when people are green with envy?
It was pretty obvious, though, that aside from their killer vocals, Sonny and Cher were turning heads for more reasons than one. Cher, with her striking beauty, could easily be counted among the most gorgeous people on the planet. And Sonny? Well, he might not have been a classic heartthrob, but he was brimming with confidence. You've got to give it to the guy – it takes a whole lot of self-belief to rock a camo Speedo and that hairline. They were a duo that truly believed in themselves, and it showed.
Catherine Bach's Unexpected Journey to Becoming the Iconic Daisy Duke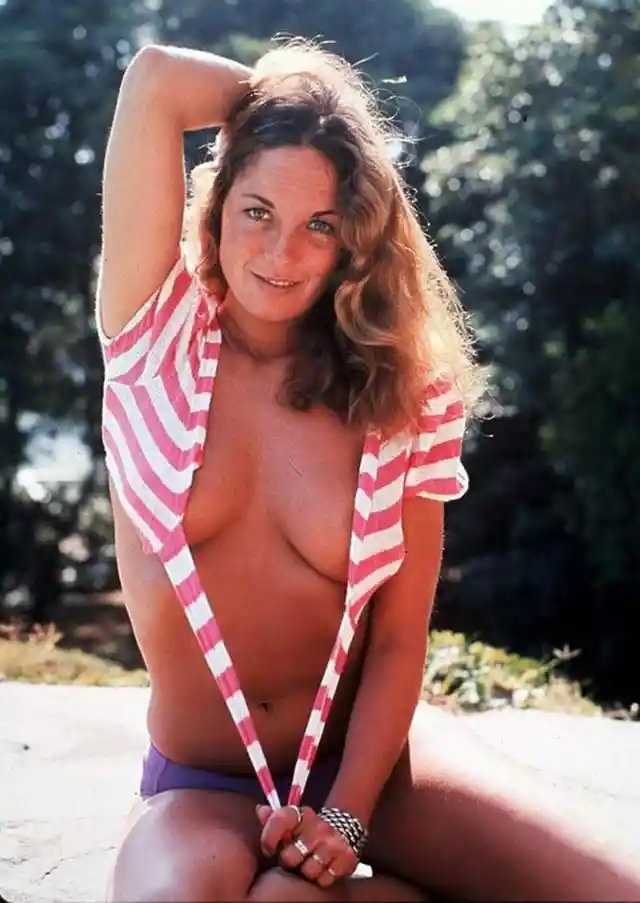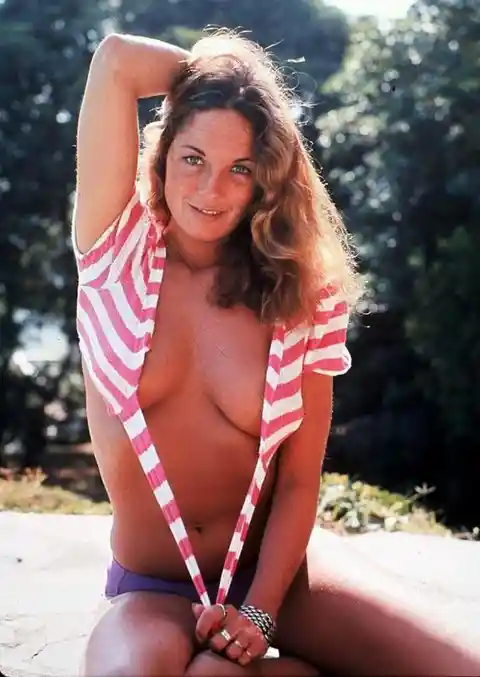 source: pinterest
Imagine a world where Catherine Bach wasn't Daisy Duke – hard to picture, right? But before "The Dukes of Hazzard" hit our screens, Bach was actually booted out of the running for the character. The producers just couldn't see her as the All-American bombshell they were looking for. She once shared, "It was a complete fluke that I was Daisy Duke! I'm half Mexican and half German, and my agency said, 'You're way too exotic and just not television material' – and they fired me."
But as luck would have it, Bach ended up at an event where she met the creators of the show. That's when everything changed. They suddenly realized she was the perfect fit for Daisy Duke. Just two weeks after a sit-down meeting, she landed the role. And now? Well, Catherine Bach is as synonymous with the all-American image as apple pie and baseball. Funny how fate works, isn't it?
Elvira's Origin: Cassandra Peterson's Love/Hate Affair with Horror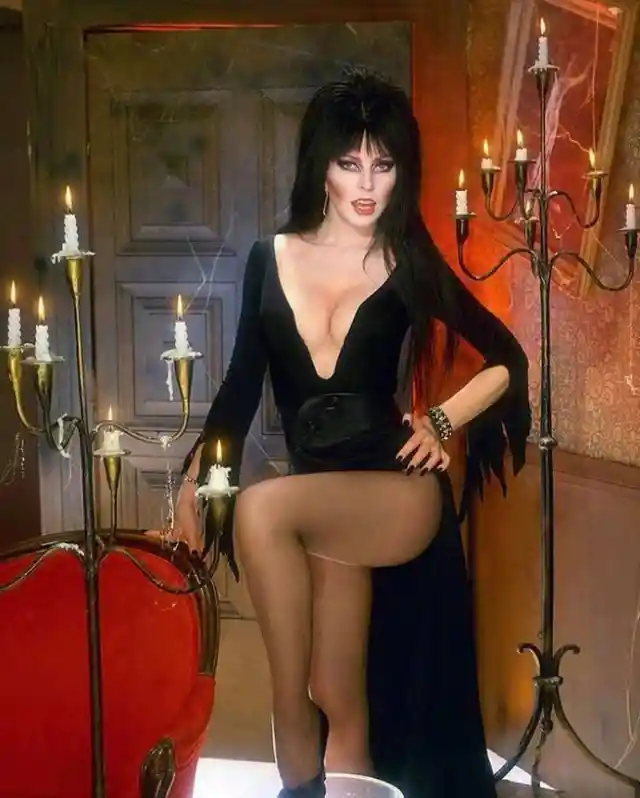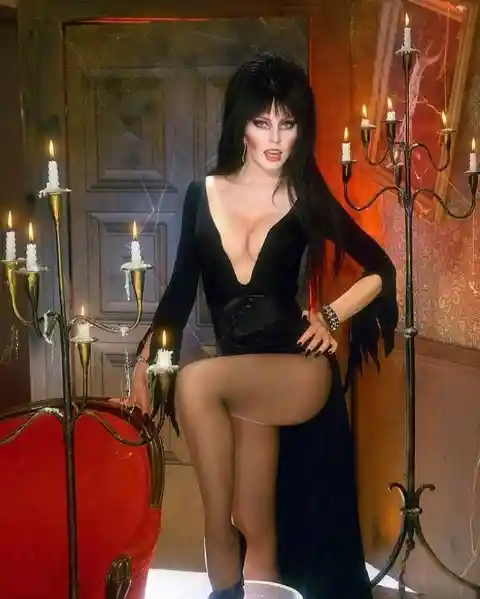 source: reddit
For a whole generation of young horror enthusiasts, Elvira was nothing short of a revelation. With her unique blend of sexiness and humor, she completely transformed how people viewed horror fandom. Thanks to Cassandra Peterson's portrayal, you could be witty, cool, and a fan of genre films all at once.
Peterson herself got hooked on horror pretty early in life, though it was a bit of a mixed bag at first. She recalls, "My first entrée into horror was my cousin Danny taking me downtown to the Chief Theatre in Colorado Springs to see The House On Haunted Hill starring Vincent Price. I had a love/hate obsession with the movie and with Vincent Price. I was in second or third grade and I came home from that movie and had nightmares every night for a month. But at the same time, I was obsessed with it." It's funny how the things that scare us can also be the things we can't get enough of.
Marilu Henner's 'Taxi' Tales: Behind the Scenes of TV's Golden Era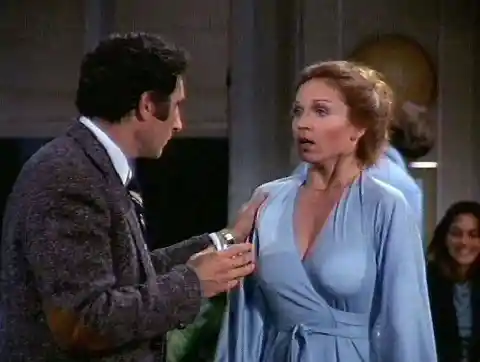 From 1978 to 1983, Marilu Henner was turning heads on "Taxi," playing the role of Elaine, a divorced single mom. She was in the mix with a bunch of guys like Judd Hirsch, Danny DeVito, and Andy Kaufman, but according to Henner, it was far from just a boy's club. It was more like its own unique world.
Henner reminisced about those days with a bit of nostalgia. She shared how the experience was like being back in school. "We did 112 shows and we literally had 112 parties. This cast was so into one another and every Friday we would throw a party. The Paramount lot was like going to the coolest high school ever. At that same time, you had Happy Days, Laverne & Shirley, Mork & Mindy -- of course with Robin Williams; Bosom Buddies with Tom Hanks; Working Stiffs with Jim Belushi and Michael Keaton. You had all of these great sitcoms going on at the same time. But the Taxi cast — we were the ones that threw the parties."
It was a golden era of sitcoms, and the "Taxi" crew was right at the heart of it, known for being the life of the party. Those were the days when TV magic was in the air, and it sounds like they were having the time of their lives making it.
Emily Banks' Star Trek Sprint: Behind the Scenes of 'Shore Leave'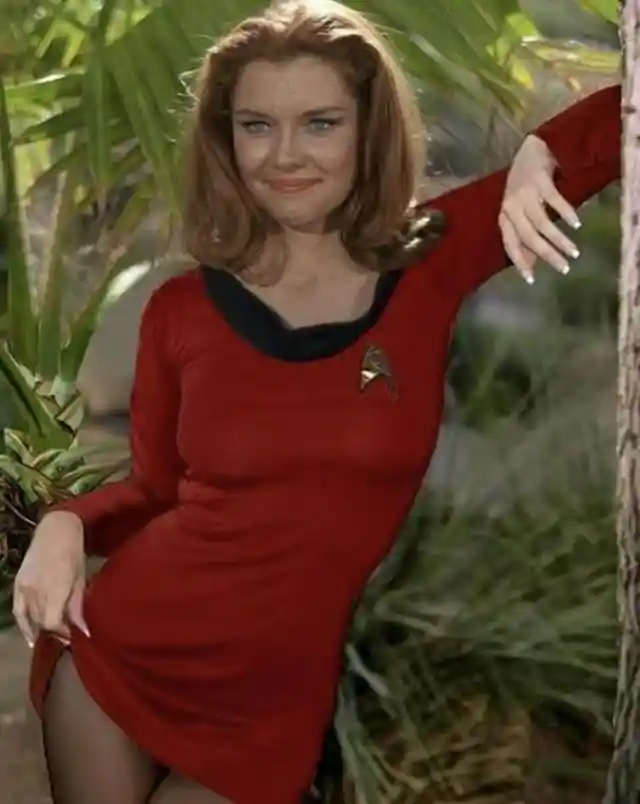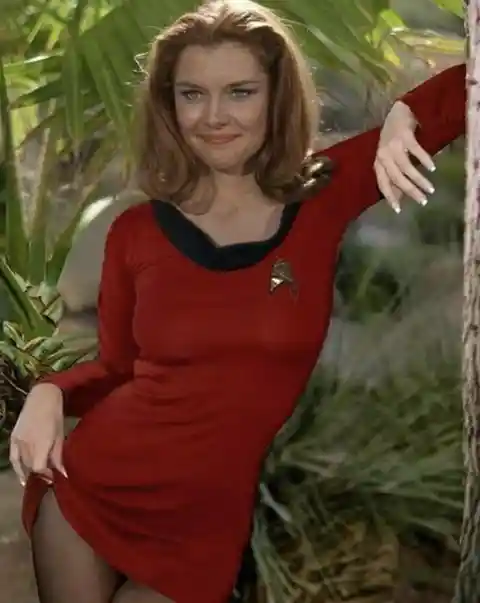 source: Paramont
Even if you're not the biggest Star Trek fan, you've probably heard of the episode "Shore Leave," a fan favorite from the original series. It's the one where the Enterprise crew lands on this seemingly idyllic planet, only to find themselves caught up in the planet's strange power of making their deepest desires come to life.
In this episode, Emily Banks stars as Yeoman Tonia Roberts, catching the eye of Doctor McCoy and becoming the episode's glamorous space lady. But here's a fun fact: Banks had no idea she'd spend most of the episode in such a revealing outfit. She recalls, "I didn't realize that I was going to be running around with legs hanging out [from the uniform] and shoulders hanging out [from the torn tunic]. But I do remember I did a lot of running. There was a lot of running. And I remember thinking on the first couple days, 'They don't want an actress, they want an athlete.' I was exhausted, and we kept running and running."
It sounds like a mix of surprise, a bit of a workout, and a whole lot of adventure for Banks on the set of one of Star Trek's most memorable episodes.
Raquel Meets Janis: A Starstruck Moment on the Dick Cavett Show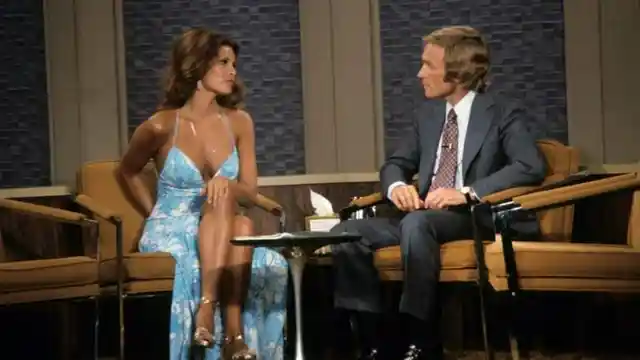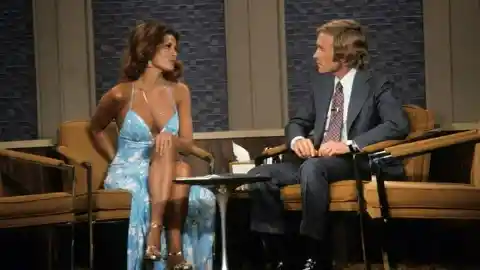 source: pinterest
It's 1972, and Raquel Welch is all set to appear on the Dick Cavett Show. She's there to talk about her latest film, "Myra Breckinridge," where she plays a post-op transsexual woman – a pretty bold move for the time. But what she didn't know was that she was in for a surprise that would leave her starstruck.
As she walked onto the set, Welch had no idea she'd be meeting Janis Joplin, the rock and roll queen herself. Now, you might not think of Welch, the epitome of Hollywood glamour, as a fan of the hard-partying Joplin, but she was absolutely awestruck. She later reminisced, "I happened to be a big, huge fan of Janis Joplin—she probably wouldn't have known that. … I was gaga … and she was looking at me like I was from the moon."
It's a little snapshot of a moment where two wildly different worlds collided, with Welch, the so-called goody two shoes, coming face to face with her music idol. Just goes to show, you never know what surprises await you in the green room of a talk show!
Unlacing History: The Rise of the Anti-Bra Movement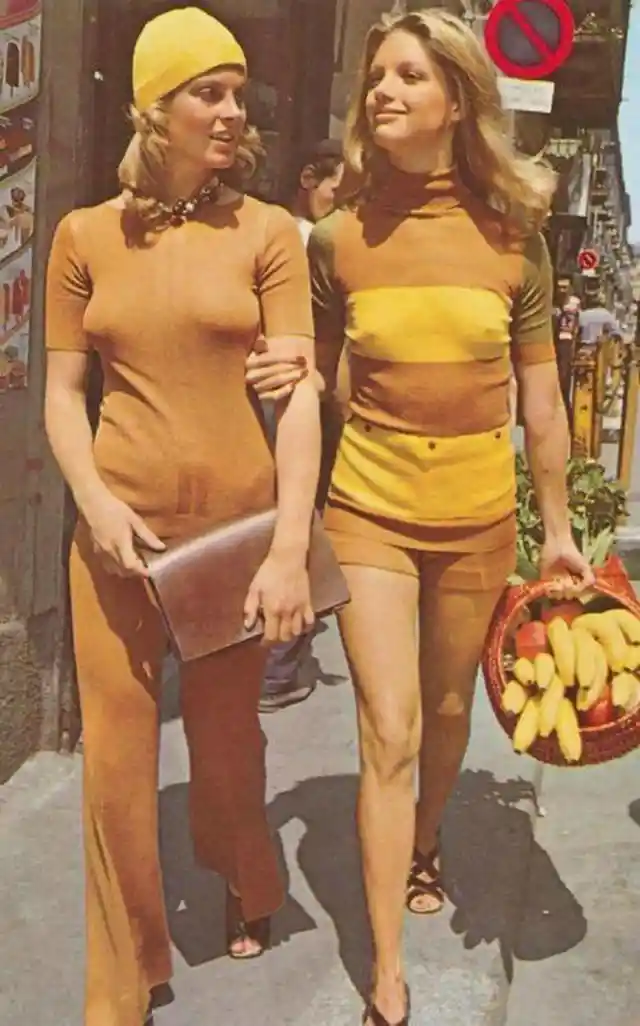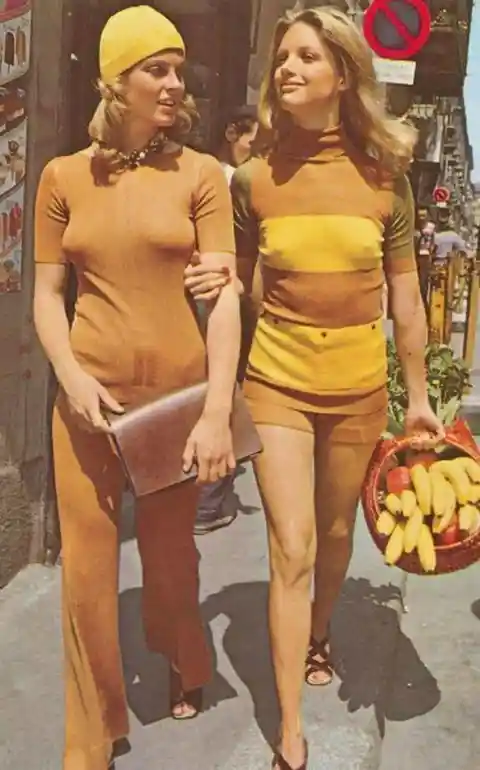 source: pinterest
Let's rewind the clock back to the 14th century B.C. – that's when the bra was invented. Fast forward to the 1800s, and you'll find that cultural norms had firmly nudged women into brassieres, corsets, and girdles. But, as with all things, change was on the horizon, and by the 1960s, women started to push back against the idea that they had to dress a certain way.
The real game-changer came in 1968, right outside the Miss America Pageant in Atlantic City. That's where the anti-bra movement truly caught fire – quite literally. Women lined up, not to watch the pageant, but to burn bras, makeup, corsets, and even mops. It was a powerful statement against what they saw as "enforced femininity."
As the 1970s rolled in, the movement took a different turn. Many women, not keen on burning their belongings, simply chose to ditch their bras, embracing a more natural look and, in a way, leaving little to the imagination. This shift wasn't just about comfort; it was a bold statement of autonomy and a step towards redefining femininity on their own terms.
From Michigan to Manhattan: Madonna's Journey to Stardom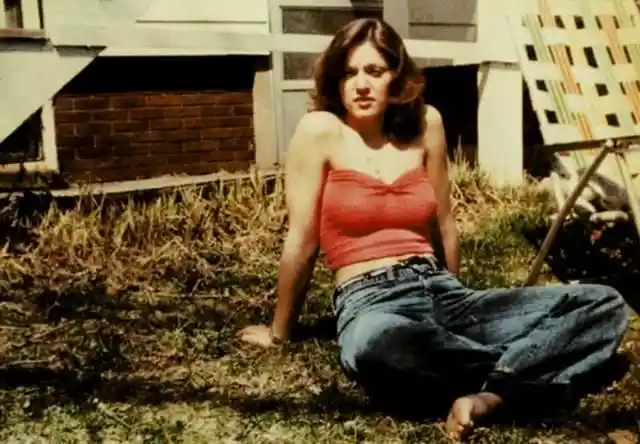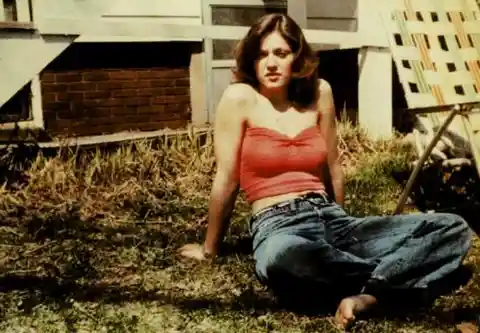 source: reddit
Long before Madonna became the undisputed queen of pop, she was just another teenager, growing up in Michigan. It's kind of wild to think about it, right? Like, imagine Madonna, the icon, as a regular kid, not yet touched by the glitz and glam of pop stardom.
Her life back then was all about finding her own kind of fun. She had this dream of becoming a dancer. But that wasn't all – she dabbled in making short films with her friends, and even tried her hand at writing poetry. However, it wasn't until she took a bold step and enrolled at the University of Michigan that things started to shift. But college life was short-lived for Madonna. After just a year, in 1978, she made a life-changing decision to drop out and chase her dreams in New York City.
Picture this: Madonna, arriving in the Big Apple with barely 30 bucks to her name. It's the classic tale of a small-town girl in a big city, right? She even had to work at Dunkin' Donuts to make ends meet while she was hustling to make her dreams a reality. It's a far cry from the dazzling stages and screaming fans she would soon become accustomed to. But hey, everyone's got to start somewhere, and for Madonna, it was the bustling streets of New York City, armed with ambition and a pocketful of dreams.
Thumbin' It: The Rise and Fall of Hitchhiking's Golden Age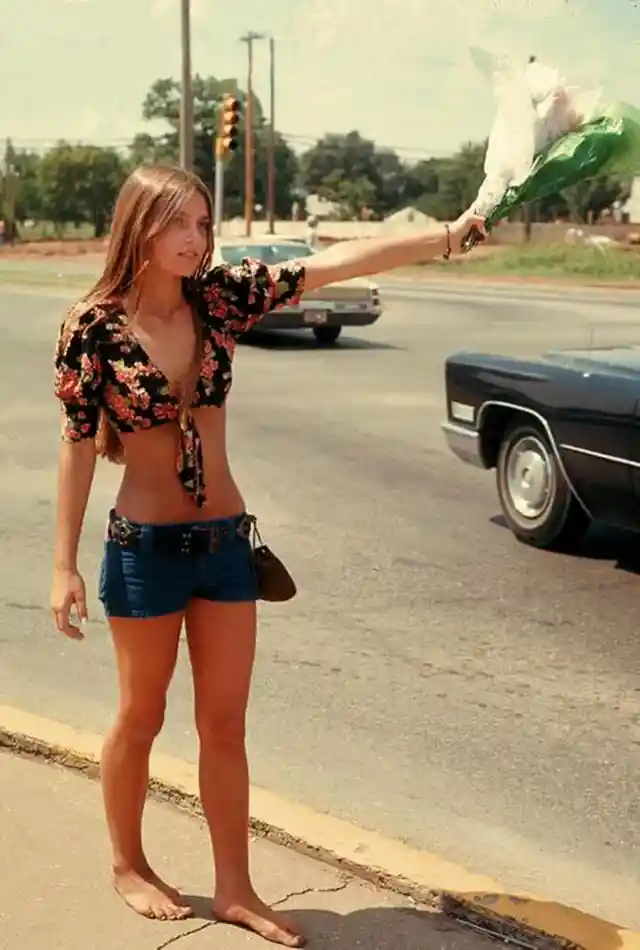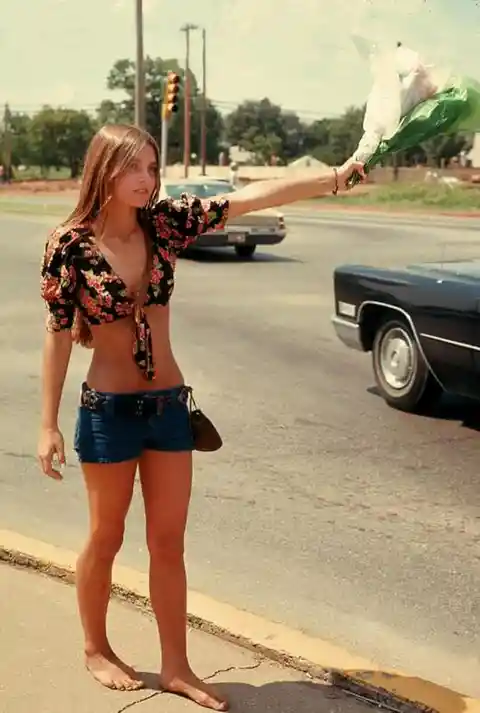 source: reddit
Back in the early 1970s, even as the hippie era was starting to fade, hitchhiking was still the go-to travel method for many young adventurers. This whole idea of hitting the open road, thumb outstretched, waiting for a ride, wasn't something new. It actually became a thing during the Great Depression and managed to stick around for decades.
Imagine just stepping out onto the road's shoulder, the world stretching out before you, ready to see how far you could go. It was a simpler time, a sense of freedom and adventure that's hard to find today. But, as with all good things, there was a catch. Unfortunately, a few too many unsavory characters out there made hitchhiking a risky business – dangerous for both the hitchers and the drivers.
Now, all we have left are the memories of those halcyon days. Days when taking to the road with nothing but a backpack and a thumb was the ultimate adventure, a way to see the world, meet new people, and experience life in its rawest form. It was a different time, a different world, where the journey was just as important as the destination.
Heather Locklear: The Timeless Icon of TV Glamour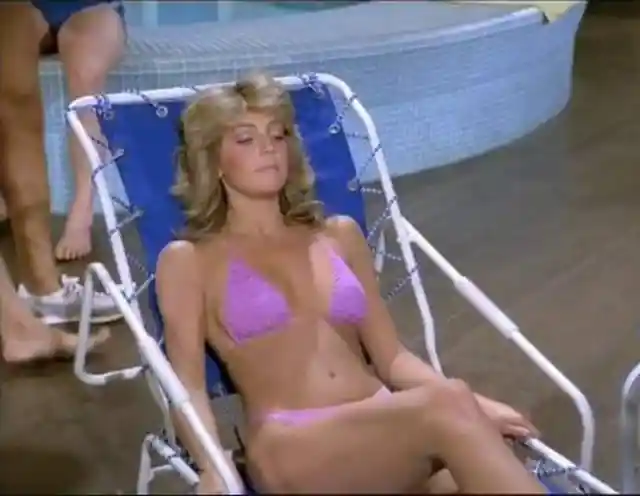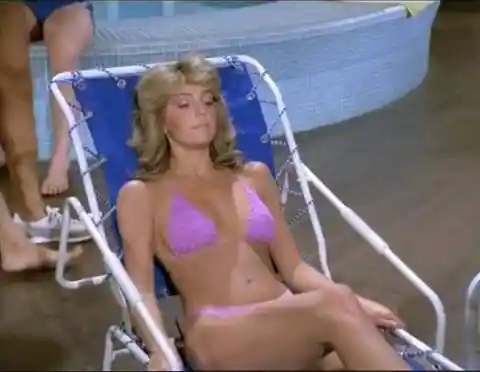 source: pinterest
Heather Locklear was the epitome of '80s glamour. Whether she was playing a cop on "TJ Hooker" or stirring up drama on "Dynasty," she had this knack for shining in any role thrown her way. And let's not forget how effortlessly she rocked everything from a police uniform to a bikini. She wasn't just a TV star; she was a style icon of the decade.
But Heather didn't just fade away with the '80s. She carried her success right into the '90s, keeping up her stunning looks and that signature amazing hair. Everyone was curious about her secret to maintaining such a youthful glow. When People Magazine got a chance to ask her, Heather spilled the beans. Her secret? She makes it a point to stay out of the sun and indulges in the softest sheets money can buy. Sounds like a simple yet luxurious recipe for timeless beauty. Maybe it's time we all took a page out of Heather's book and treated ourselves to some ultra-soft sheets, too.
Stealing the Spotlight in Caddyshack: A Chicago Native's Tale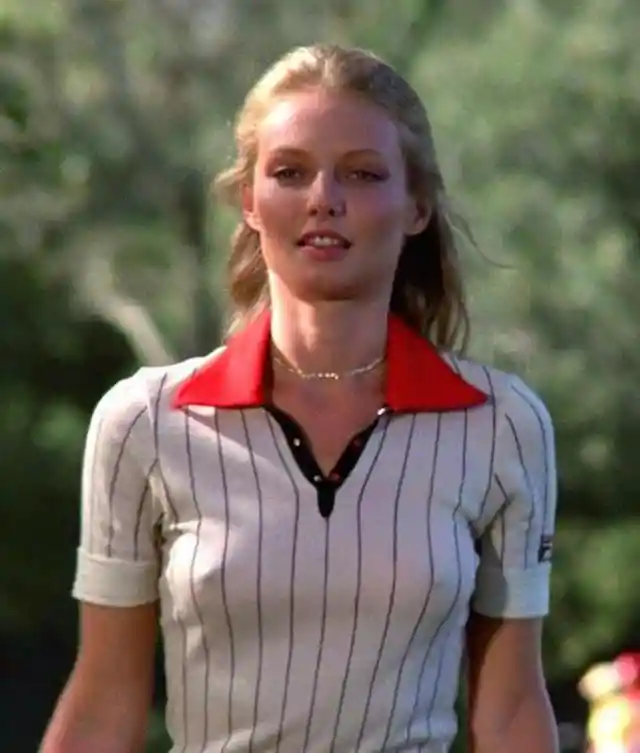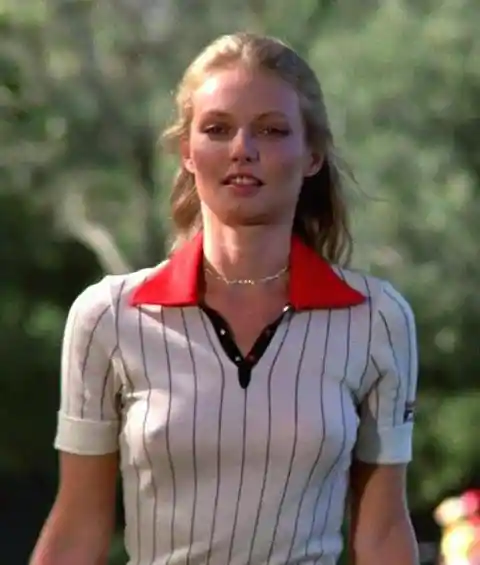 source: warner bros.
A local girl lands a role in the soon-to-be classic comedy "Caddyshack." Now, imagine standing out among comedy giants like Chevy Chase, Rodney Dangerfield, and Bill Murray. Sounds daunting, right? But this Chicago native did just that, and with style.
When asked about how she managed to keep her cool amidst such comedic chaos, she shared a little secret. She deliberately stopped watching any of Chevy Chase's and Bill Murray's work before stepping onto the set. "When I found out that I had this job, I stopped watching any of the Chevy Chase's and Bill Murray's work. I wanted to react to them just as they were. Good thing I did. Filming was nuts, like Animal House on a golf course." She credits her five years in broadcasting and an excellent comedy improvisation coach for prepping her for the wild ride that was filming "Caddyshack."
It's a classic underdog story, isn't it? A local girl, fresh-faced and unjaded, diving headfirst into a whirlwind of comedy legends and coming out with a performance that's remembered decades later. It just goes to show, sometimes going in blind is the best way to make a lasting impression.
Susan Sarandon: More Than Just a Screen Presence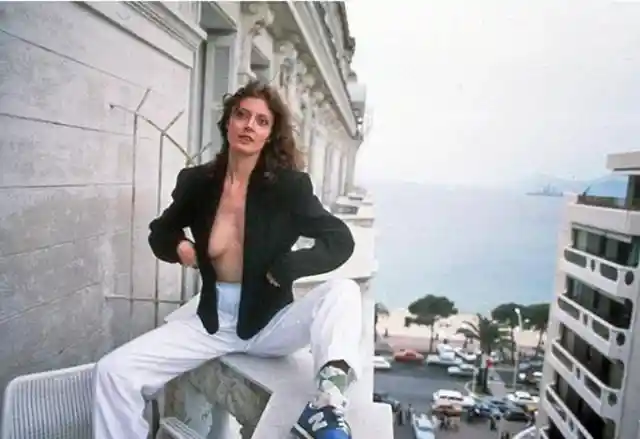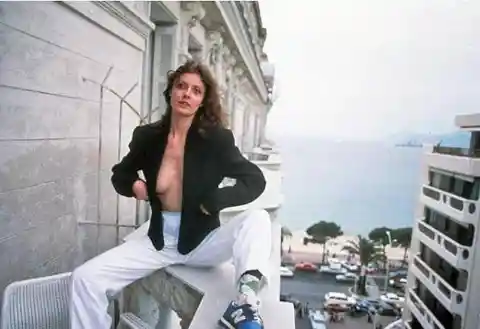 source: pinterest
Since her early days in the 1970 film "Joe," Susan Sarandon has been captivating audiences, not just as an actress, but as a thinker, an intellectual force in a world of glitz and glam. She's always stood out, not just for her on-screen presence, but for her unique approach to her craft.
Sarandon has a refreshingly straightforward take on acting. She doesn't get lost in the weeds of her characters' psyches or dwell on elaborate backstories. "I can't speak for other people, but for me, it never really worked to think something like, 'What Beatle did she like in high school?' or those kinds of elaborate backstories. It never really worked for me to have long arguments about motivation." She believes in looking at life, both on and off the screen, to find motivation, acknowledging that we can convince ourselves of just about anything.
Her perspective is a breath of fresh air in an industry often clouded by overthinking and overanalyzing. Sarandon's approach strips back the layers, revealing the raw, simple essence of acting. It's not about becoming someone else; it's about finding the truth in the character through your own experiences. This mindset has not only set her apart from her peers but also cemented her place as a true icon in the film industry.
Escaping the Spotlight: Brigitte Bardot's Journey from Icon to Privacy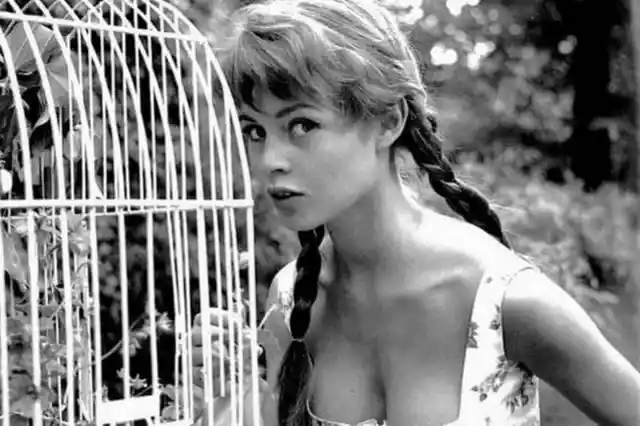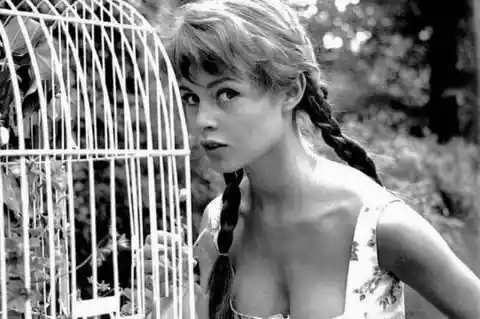 source: pinterest
Imagine being Brigitte Bardot, not just a model or an actress, but a figure so iconic, she seemed more like a character from a myth than a real person. Yet, despite her almost otherworldly fame, she chose to step away from it all. Why? Because the very thing that made her a star was suffocating her.
In her memoir, Bardot opens up about the dark side of fame. It's a world that, according to her, often leads to destruction. "I know what it feels like to be hunted… The majority of great actresses met tragic ends." Her decision to leave behind a life of luxury, adoration, and ceaseless desire wasn't just a career move; it was a bid for survival. "When I said goodbye to this job, to this life of opulence and glitter, images and adoration, the quest to be desired, I was saving my life. This worship of celebrity … suffocated me."
It's a powerful reminder of the heavy price of fame. Bardot's story isn't just about a star turning her back on the limelight; it's about a woman reclaiming her life from the clutches of public obsession. Her journey from a celebrated icon to a life of privacy is a testament to the strength it takes to walk away from it all.
UFO: The Campy Sci-Fi Gem You Might Have Missed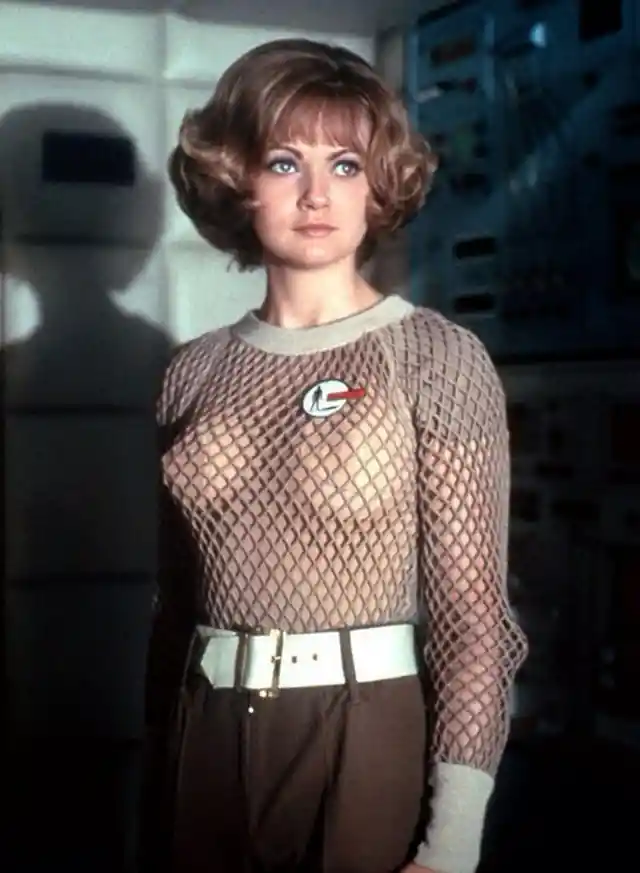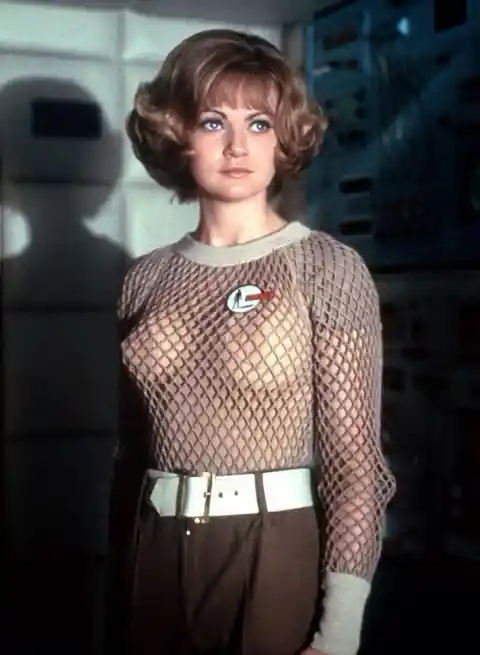 source: BBC
Let me take you back to a show that didn't get nearly enough love but definitely deserves a spot in the sci-fi hall of fame. Picture this: the year is 1980, or at least that's the setting of 'UFO', a show actually produced in the late '60s. This series was all about SHADO (Supreme Headquarters Alien Defence Organisation) - think of it as a secret military group, led by the US but with a global reach, and their mission? To save the world from aliens desperate for Earthling organs. Talk about a high-stakes job!
Now, here's the twist - the SHADO headquarters were sneakily hidden beneath a film studio in London. And the man in charge, Ed Straker, wasn't just battling extraterrestrial threats; he was also moonlighting as the head of the studio. Talk about a double life!
But let's not forget the aliens. These weren't your typical green men from Mars. No, 'UFO' gave us some of the most alluring extraterrestrials ever to grace the small screen.
Sadly, 'UFO' was a one-hit wonder, lasting just a single season. But for anyone who loves their science fiction with a side of camp, it's an absolute must-watch. It's one of those shows that might have slipped under the radar but is a true gem waiting to be discovered by sci-fi aficionados and casual viewers alike. So, if you're in the mood for something a little out of this world, 'UFO' is your ticket to a campy, alien-filled adventure.
Tina Turner: The Unstoppable Diva's Rise to Glory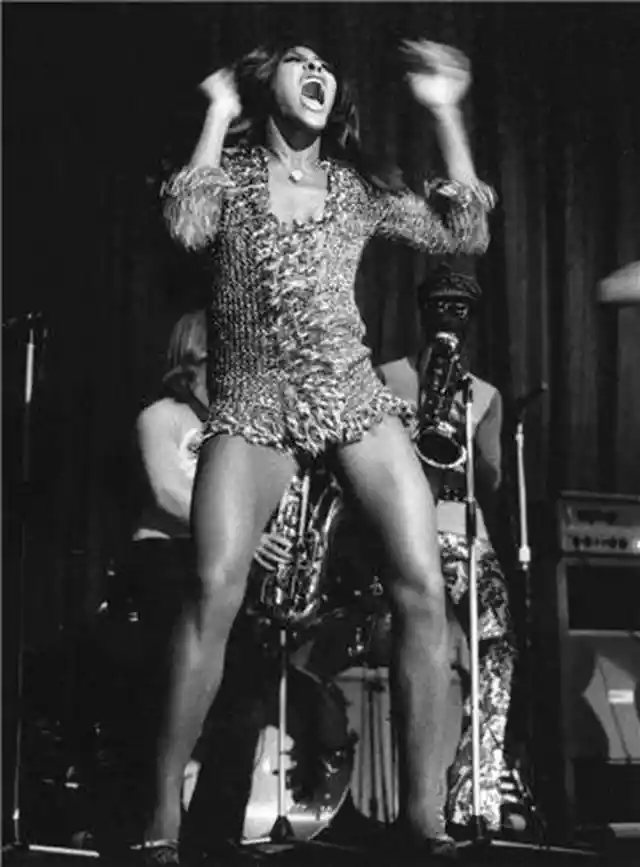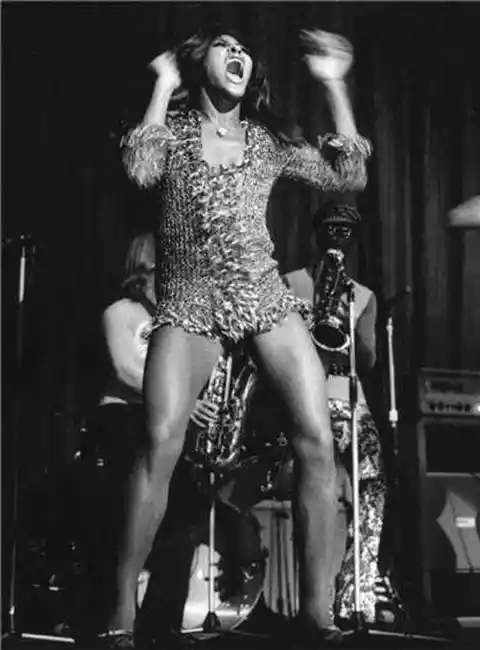 source: reddit
A voice that could shake the earth and a presence so electrifying it could light up the darkest room - that was Tina Turner in the groovy era. More than just her powerful vocals, she was a whirlwind of energy on stage, pouring every ounce of her soul into each performance, leaving the audience mesmerized.
But let's rewind to 1976. Tina had just broken free from the clutches of Ike Turner's abuse. Picture this: a woman of immense talent, yet all she had to her name was a mere 36 cents. It was a tough spot, but she was tougher. Tina hustled hard, gracing shows like 'Hollywood Squares' and singing her heart out at any gig she could land.
Then came 1984, a year that would forever be etched in music history. Tina released "What's Love Got To Do With It", and just like that, she wasn't just back; she was on top. This single wasn't just a hit; it was a statement. Tina Turner, with her indomitable spirit, had risen from the ashes to become one of the greatest divas the world has ever seen. A true testament to resilience, talent, and the sheer power of will.
Woodstock Vibes: A Nostalgic Look at Freedom and Fun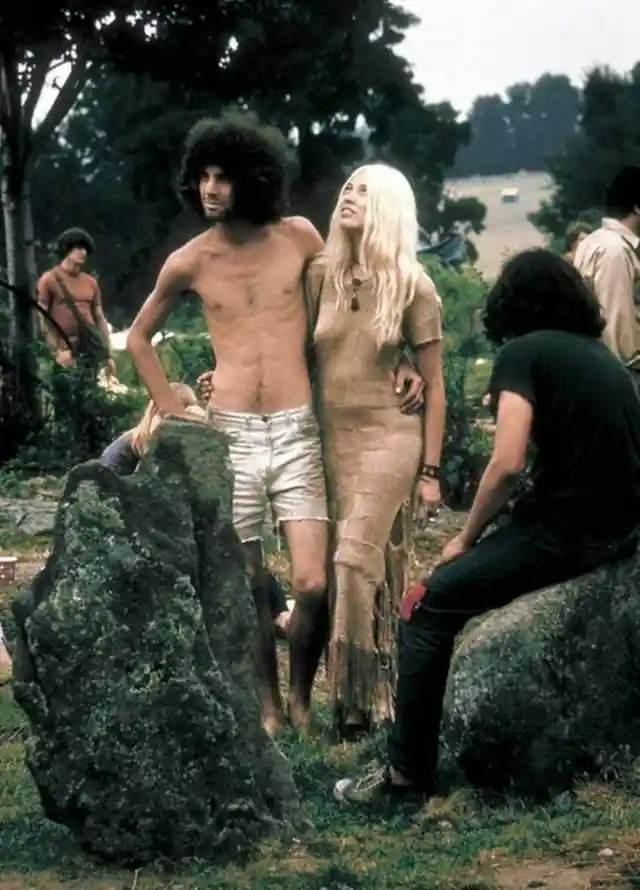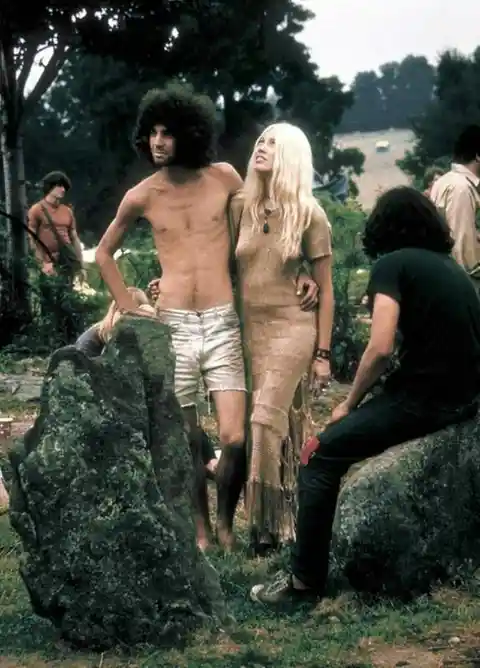 source: pinterest
The 1960s, an era where freedom wasn't just a word, but a lifestyle. It was a time that makes you wonder, especially when you compare it to the self-imposed restrictions of today. And right at the heart of this free-spirited era was Woodstock, an iconic festival that became the epitome of peace, love, and the relentless pursuit of good times. Oh, to relive those days!
Imagine stumbling upon a couple in the midst of Woodstock's chaos. There they are, in a vast, muddy field, probably wearing the only clothes they own, yet having the time of their lives. They look effortlessly cool, embodying the festival's spirit. It's not just about the music or the mud; it's about the vibe, the sheer joy of being there.
Fast forward to today, and it feels like that optimism and 'anything goes' attitude of the Woodstock era has slowly faded away with the passing generations. But who knows? Maybe, just maybe, with a sprinkle of hope and a dash of that old-school spirit, we can bring a bit of that Woodstock magic back into our lives.
The Mysterious End of Carol Wayne: Comedy, Tragedy, and an Unsolved Mystery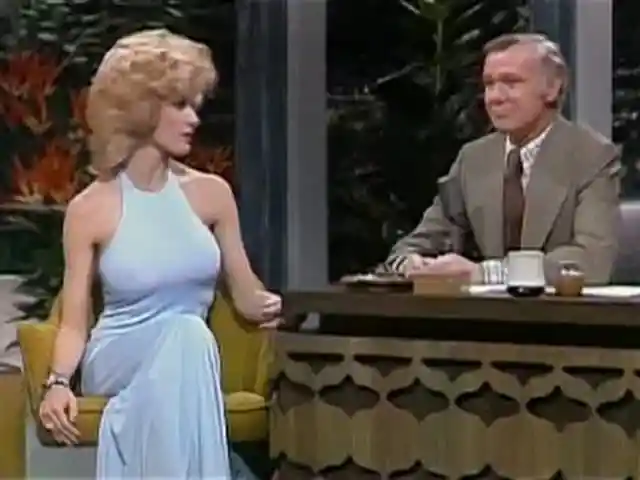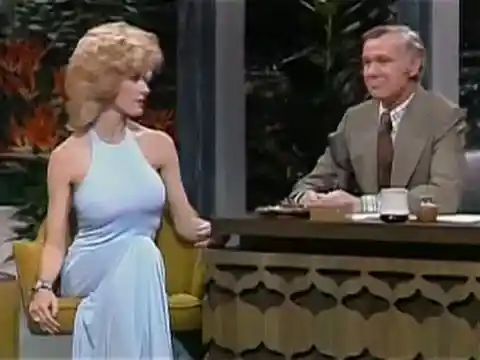 source: NBC
Let me take you back to a time when Carol Wayne wasn't just another face on TV. She was the dazzling, blonde bombshell lighting up "The Tonight Show" alongside Johnny Carson. More than her striking looks, Carol was a riot, a natural at comedy, playing off Carson like they were born to share that stage.
But then, things took a turn. The mid-80s rolled around, and her segment on the show was axed. That's when Carol's life spiraled into a world of drugs and alcohol, a descent that was as heartbreaking as it was rapid.
Fast forward to 1985, in a quiet part of Mexico. A group of local fishermen made a chilling discovery – a body floating in the shallow waters. It was Carol Wayne. The twist? An autopsy revealed no trace of drugs or alcohol, and drowning was ruled out. To this day, the question lingers, shrouded in mystery: What really happened to Carol Wayne?
Linda Gray: The Mesmerizing Force of 'Dallas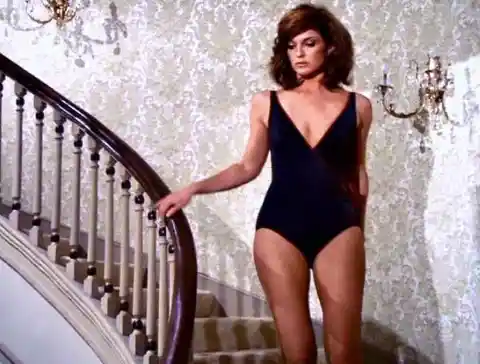 source: CBS
It was the late '70s and '80s, and there was this show on CBS that's got everyone talking - "Dallas". And right there, at the heart of it all, was Linda Gray as Sue Ellen Ewing. She wasn't just another character on TV; she was a sensation. Audiences were glued to their screens, captivated by every move she made. And really, who could blame them?
Sue Ellen wasn't your typical TV character. She had layers, a depth that was rare for television at the time. She navigated through the twists and turns of life with her ex-husband J.R., constantly at odds with the high society of Dallas. And Linda Gray? She reveled in the complexity of playing Sue Ellen. In her words to Parade, she said, "I felt that she (Sue Ellen) was the most interesting female character on television during the 80s because nobody knew what she was going to do or how she was going to react. And most of the time I didn't know." That unpredictability, that mystery, was what made her role so enthralling. Linda Gray as Sue Ellen was a force to be reckoned with, a true icon of '80s television.
Kelly LeBrock's Close Call with Stardom in 'Weird Science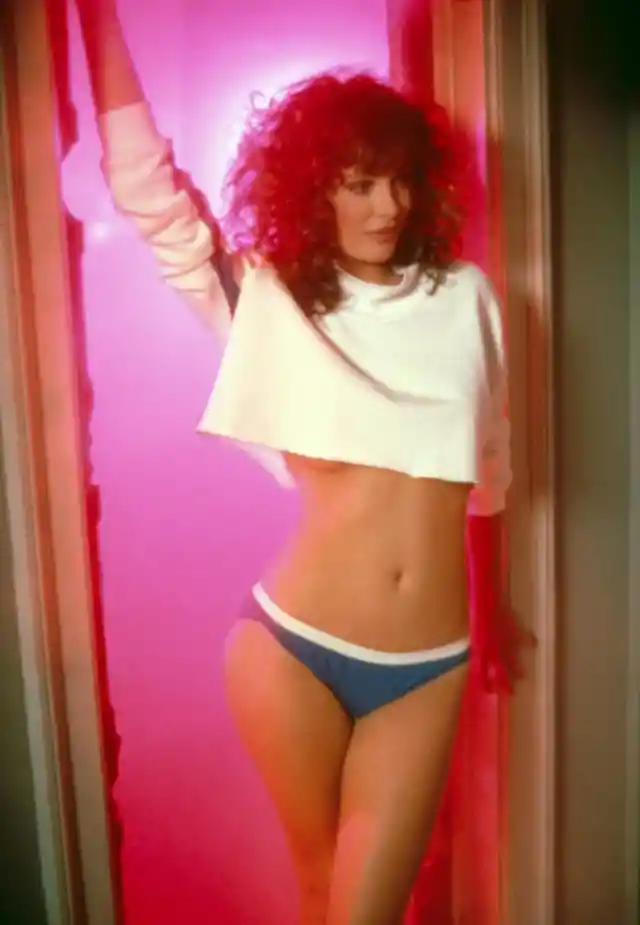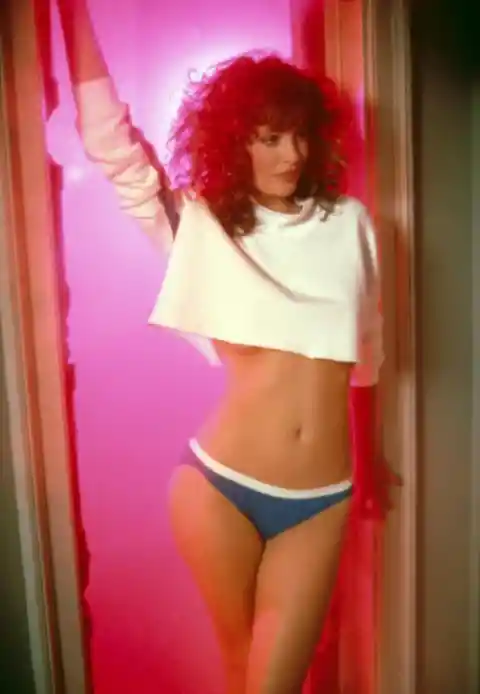 source: universal pictures
Imagine this: the '80s, a decade of big hair and even bigger personalities. In the midst of all this, there's Kelly LeBrock, a name synonymous with the era's glamour. Everyone remembers her from "Weird Science", right? That iconic role almost slipped through her fingers.
Here's the scoop: Kelly was living it up in Europe, vacationing with none other than Sting. The idea of returning to the U.S. for a movie role? Not exactly appealing. She was having the time of her life in the South of France, soaking up the sun and the fun. So, when "Weird Science" came knocking, she initially said no. In her own words, "When I was first offered that role I turned it down because I was having way too much fun in the South of France with Sting, and I didn't want to go back to the U.S., so they had hired someone else."
But fate had other plans. The actress initially cast for the role didn't work out, and the producers were back on Kelly's doorstep, this time with an offer she couldn't refuse. "After about three weeks of shooting the girl had to be fired, so they called me up and said we will give you whatever you want, so the next day I was on a plane to Chicago." And just like that, Kelly LeBrock was on her way to becoming an '80s icon. Her first scene? The unforgettable shower scene. Talk about a dramatic entrance!
From Folk to 'Physical': Olivia Newton-John's Musical Journey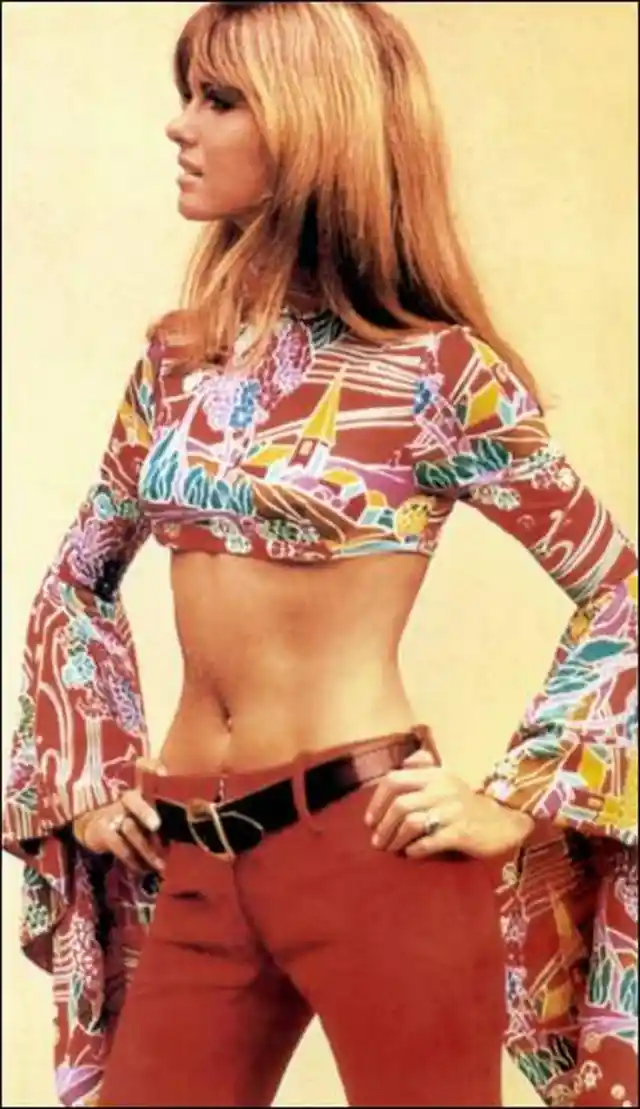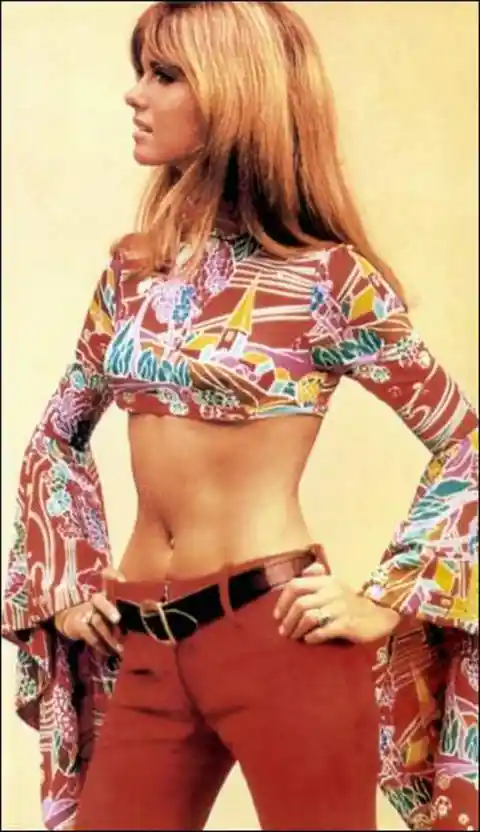 source: pinterest
The 1970s, a time of musical exploration and genre-blending. In this vibrant era, Olivia Newton-John emerged, not as the pop icon we know today, but as a fresh voice in folk and country. It's a bit of a head-scratcher, considering her eventual '80s anthem, "Physical," but that's the beauty of her journey.
Her first solo single, "If Not For You," penned by none other than Bob Dylan, marked her entry into the music world. Bob Dylan and Olivia Newton-John – not exactly a duo you'd expect, right? Yet, there she was, weaving her voice into the tapestry of folk and country tunes, far from the pop beats that would later define her career.
Fast forward to 1978, and everything changed. Olivia landed the role of a lifetime in "Grease." Suddenly, she was no longer just a singer with a penchant for folk; she was the Australian girl unraveling the enigma of her summer romance. This role wasn't just a breakout moment; it was a pivot that steered her towards the pop stardom we associate her with today. From folk roots to pop heights, Olivia Newton-John's musical evolution is as dynamic as it gets.
From Elle Cover to Silver Screen: The Meteoric Rise of Brigitte Bardot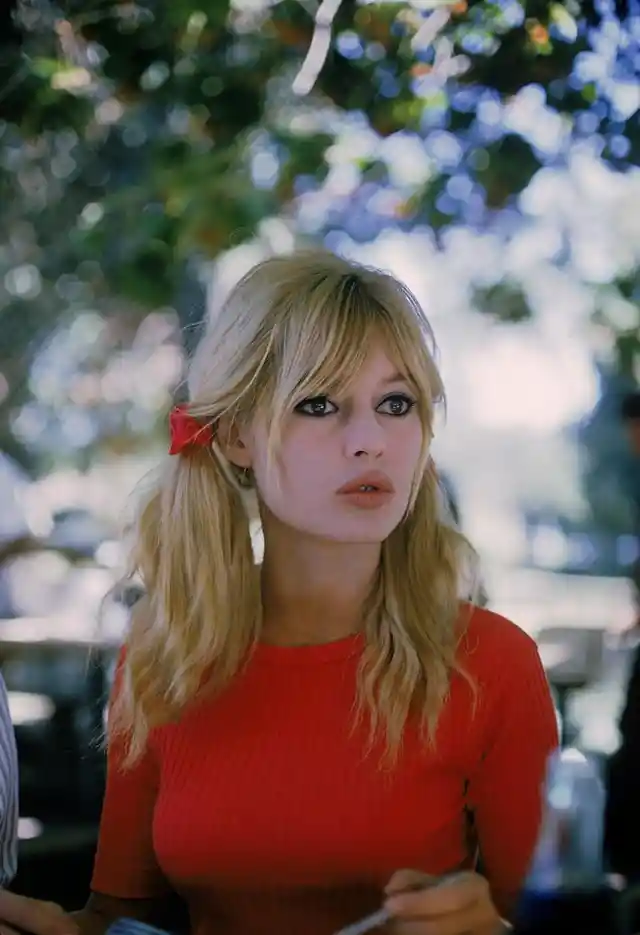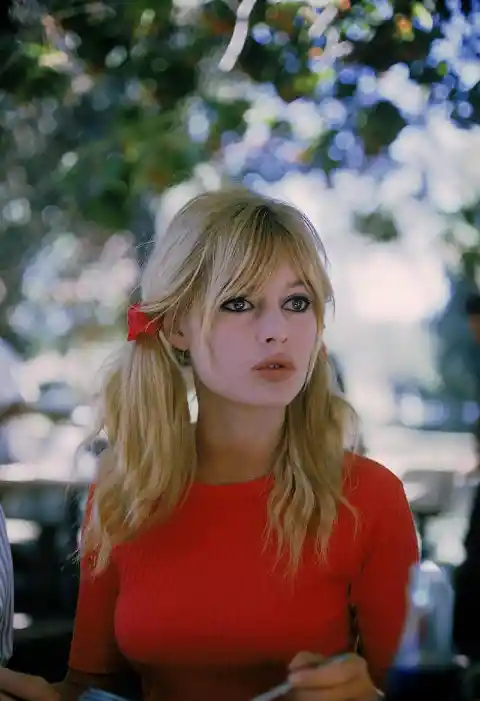 source: getty images
Imagine a world where Brigitte Bardot wasn't yet a household name. Hard to picture, right? Well, back in the groovy era, she was just starting to turn heads. Picture this: a 15-year-old girl, born to affluent parents in France, gracing the cover of Elle Magazine in May 1950. That's where it all began for Bardot.
This wasn't just any magazine cover; it was the launchpad of her fame, catapulting her into the limelight at an incredibly young age. It's like the cover had a magic touch – suddenly, Bardot was the name on every director's lips. Among them was Roger Vadim, who was so captivated by her Elle appearance that he knew he had to cast her. And he did, not just in one, but in two of her earliest films: "And God Created Woman" and "The Night Heaven Fell."
Bardot's charm and talent knew no bounds, making her an international sensation almost overnight. But despite her global fame, she had a soft spot for filming in her home country, France. She wasn't one for change, and new places didn't sit well with her at first. Take Spain, for instance – she wasn't a fan, at least not until she discovered the joy of sangria. It's funny how a simple local drink can turn your whole experience around, isn't it? Bardot's journey from a magazine cover to international stardom is a tale of talent, timing, and the transformative power of sangria.
Helen Slater: The Teen Who Became Supergirl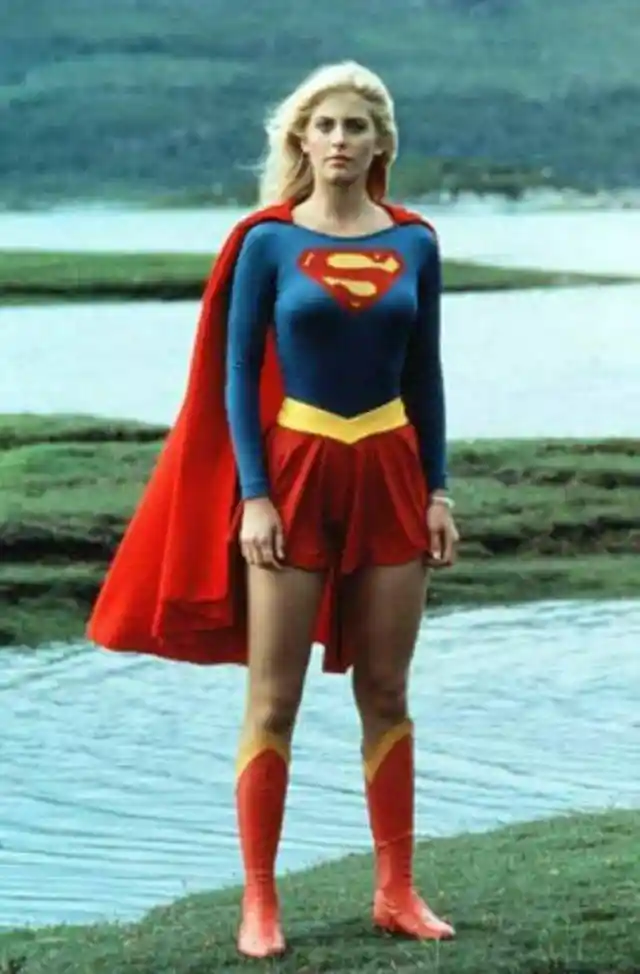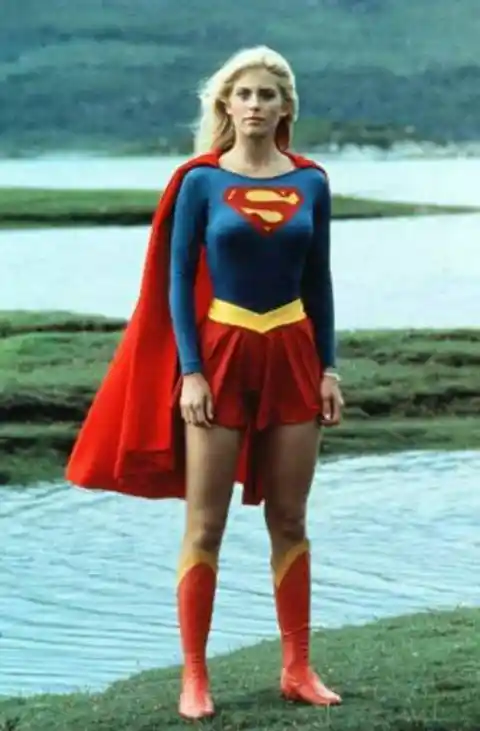 source: Warner Bros.
Consider this, Being 18 years old and getting the chance to play one of the most iconic superhero roles in cinematic history. Well, that's precisely what happened to Helen Slater when she was cast as Supergirl in the Warner Brothers' Superman series. She was about to set the world on fire faster than a speeding locomotion.
Fresh out of high school, Slater took on the role of an alien who finds herself on Earth and becomes inspired by Superman. By the time filming wrapped up, she was just 19 years old – an incredibly young age to be a film star. But how did she manage to snag such a role at such a young age?
According to Slater, her time at Performing Arts High School played a pivotal role in her journey. It instilled in her a sense of boldness and fearlessness. Armed with a homemade cape and skirt, and with glasses to complete the transformation into Linda Lee, she walked into the audition room with confidence. It's amazing what a little fearlessness and a homemade costume can do when you're chasing your dreams. Helen Slater's story is a testament to youthful audacity and the power of passion.
Crocheted Bikinis: The Sensual Swimwear of the '70s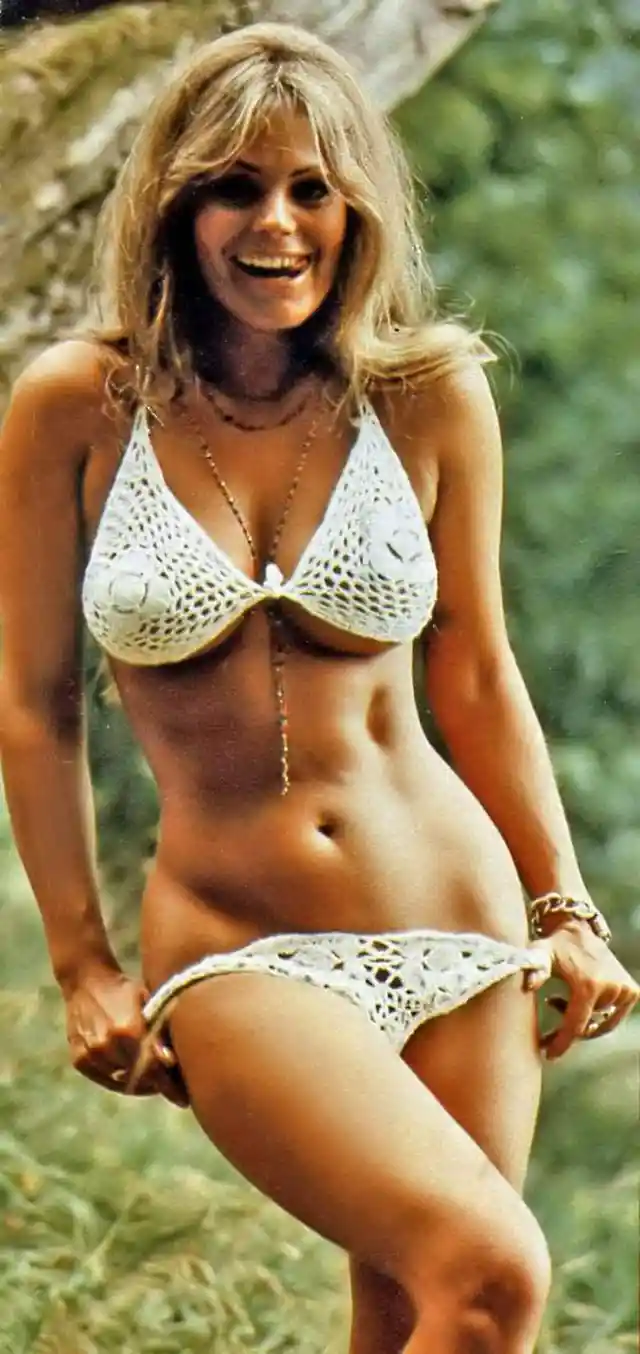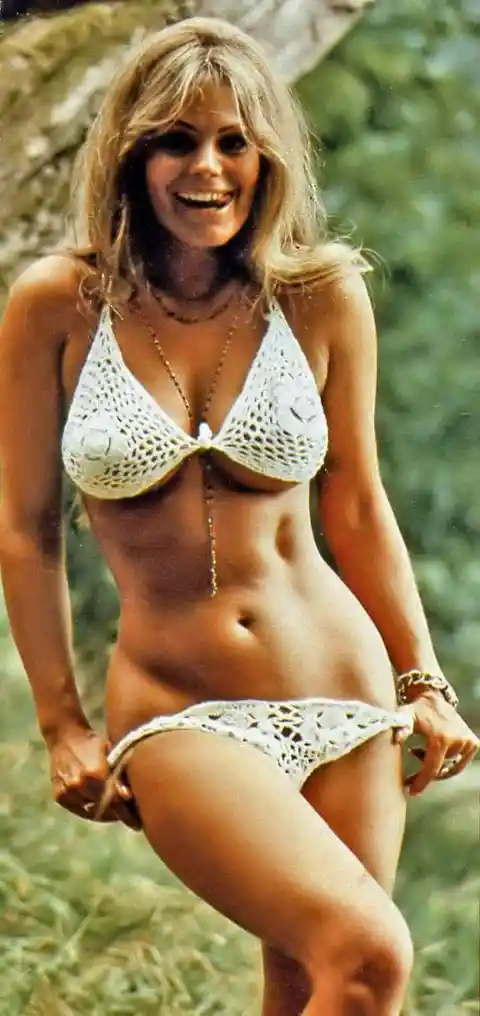 source: pinterest
Ah, the 1970s, a time when everything seemed to be embracing the natural. Vegetarianism was on the rise, synthetic fabrics were losing favor, and people were reconnecting with the Earth. Even swimwear wasn't immune to this cultural shift, and it underwent a transformation towards more natural fabrics and a "less is more" philosophy. But let's be honest, it also became incredibly sexy.
Enter the crocheted bikini, a swimwear style that left very little to the imagination – and that was precisely the point. These sensuous creations not only embraced the era's back-to-nature ethos but also celebrated the freedom of self-expression. With their intricate patterns and barely-there coverage, crocheted bikinis allowed wearers to bask in the sun while making a bold fashion statement.
So, do you have a favorite style when it comes to crocheted bathing suits? Are you a fan of the daring bikini or do you prefer the allure of a one-piece? There's no wrong answer here. It's all about embracing your inner '70s spirit and feeling fabulous in your skin.
Christie Brinkley: The Surfer Girl Turned Supermodel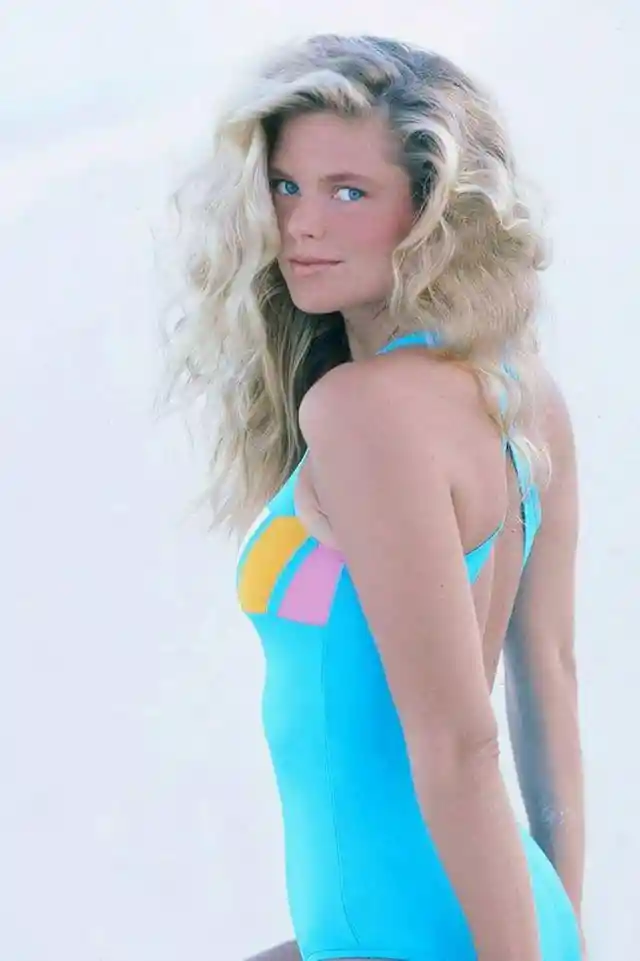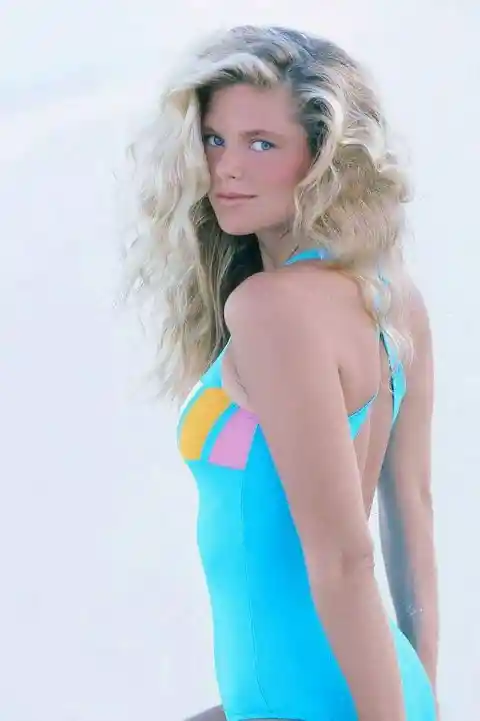 source: pinterest
It's 1972, and a young woman named Christie Brinkley is standing in line at the post office, minding her own business. Little does she know, her life is about to take a dramatic turn.
Christie wasn't dreaming of becoming a model at the time; she was passionately pursuing art and enjoying her love for surfing. But fate had different plans. As she waited in line that day, a photographer spotted her and saw something special. He didn't waste a second and approached her with an offer that would change her life forever.
Brinkley's journey from that post office queue to the pinnacle of the modeling world was nothing short of remarkable. By the early '80s, she had become one of the most famous and captivating models on the planet. Her stunning beauty graced the covers of three consecutive Sports Illustrated Swimsuit Issues, and she even had not one, but two calendars dedicated to her.
Fast forward through the decades, and Christie Brinkley's allure remains undiminished. She's a timeless icon, a testament to the enduring power of beauty, grace, and a chance encounter at the post office that set her on an extraordinary path.
Cassandra Peterson: The Unlikely Rise of Elvira, Mistress of the Dark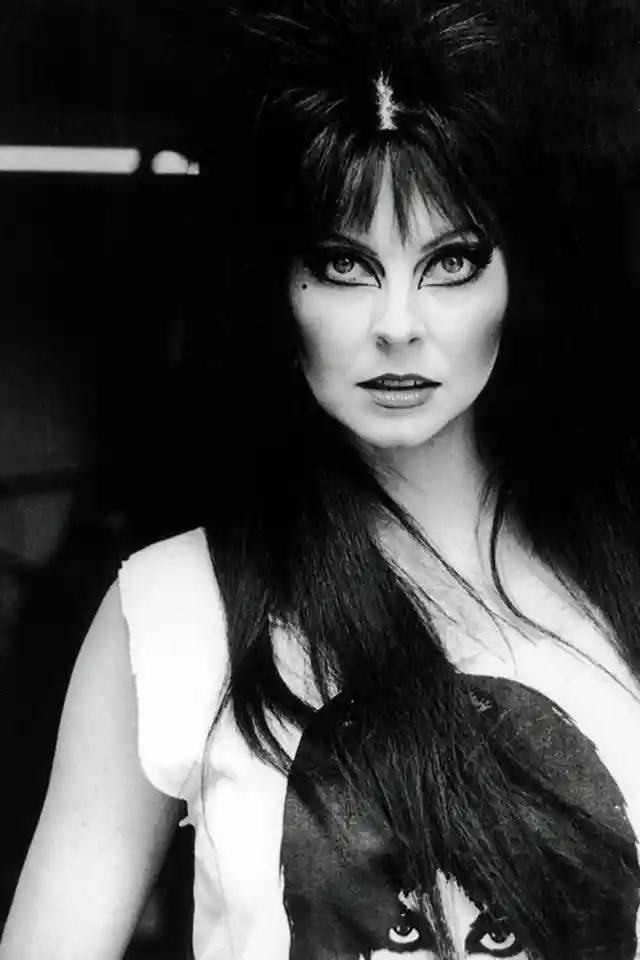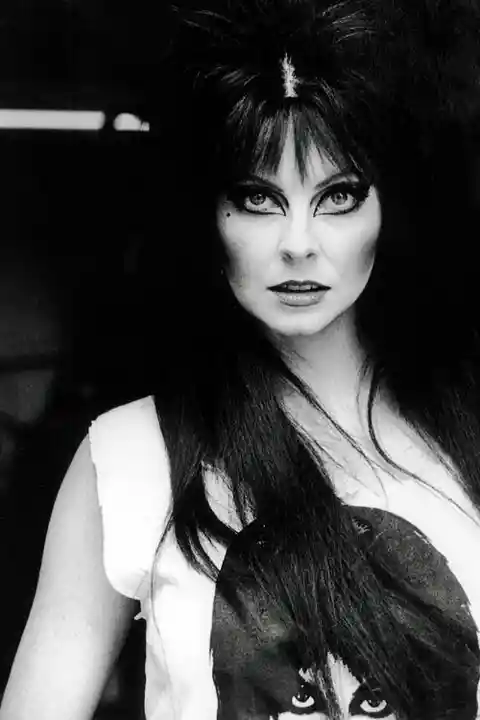 source: pinterest
Los Angeles in the early '80s, a city pulsating with energy and eccentricity. Amid the glitz and glamour, a bewitching figure emerged, captivating the City of Angels and soon, the world. This enigmatic character was none other than Elvira, Mistress of the Dark, and the woman behind the iconic makeup was Cassandra Peterson, a fiery redhead with a lifetime in the entertainment industry.
Before donning the black gown and becoming Elvira, Cassandra was a member of The Groundlings, an improvisational comedy troupe in Los Angeles that counted Phil Hartman and Pee-wee Herman among its alumni. She had dreams of making it big as a comedy actress, honing her craft alongside these future legends.
One fateful day, Cassandra was approached about playing the character of Elvira. She hesitated, unsure of this unexpected turn, but decided to take the plunge. As she later recounted to the Huffington Post, "[The director of the show] came and saw me at The Groundlings, where I was doing a Valley girl character… The director wanted me to do that character when I came to the audition and I said, 'OK? I mean, it's not very spooky, but it's up to you.' So I did that character and everybody there loved it and they hired me. They said, 'Come up with a spooky costume,' and I said 'Wait. I'm going to do that character but with a spooky costume? Uhh...' It didn't make any sense to me, but they were going to pay me $350 bucks a week so I was pretty damn happy. That was my whole rent for the month at the time!"
And just like that, Cassandra Peterson transformed into Elvira, Mistress of the Dark, captivating audiences around the world with her unique blend of humor, horror, and irresistible charm.
Glamour in the Skies: The Life of a 1960s Flight Attendant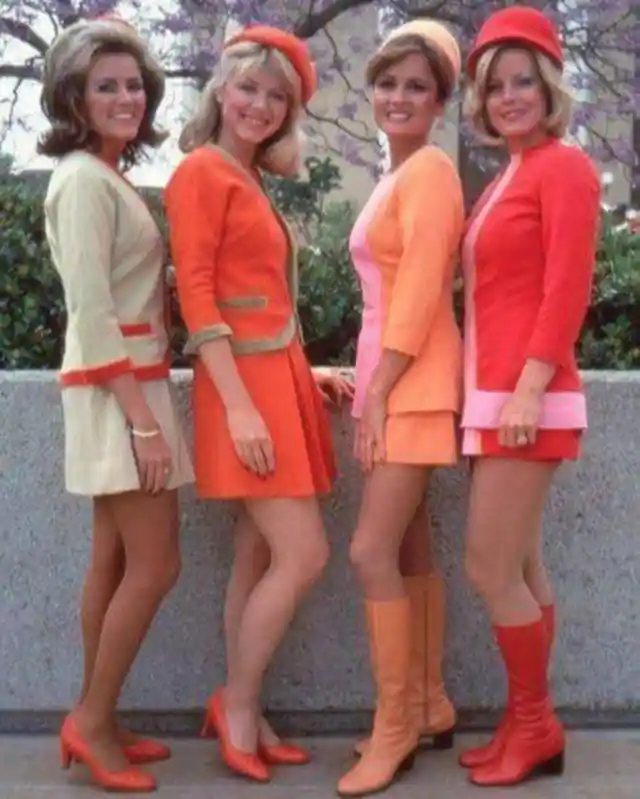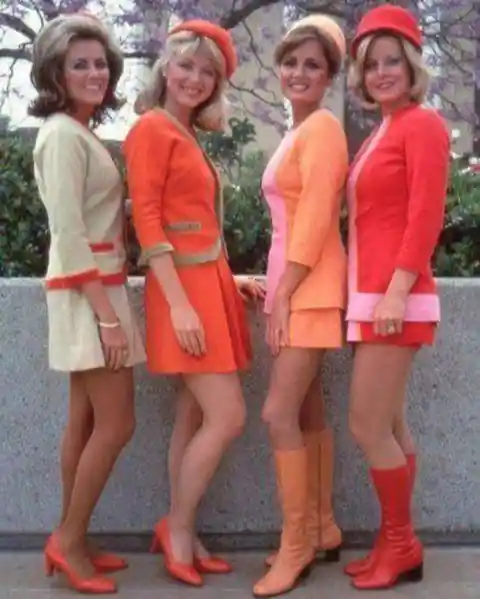 source: pinterest
Imagine stepping back in time to the swinging 1960s, an era of bold fashion and jet-setting dreams. Now picture yourself as a young woman with aspirations to join the glamorous world of airline service. But don't be fooled by the allure of the job—it's no walk in the park; it's your entire life up in the air, quite literally.
In those days, stewardesses (as they were called then) didn't just wear uniforms; they donned outfits straight out of a kaleidoscope, bursting with vibrant colors and chic designs. However, the path to becoming a flight attendant was no easy feat.
Before taking to the skies, aspiring stewardesses had to undergo rigorous training. For a grueling five weeks, they immersed themselves in geography lessons, meticulously studied the art of hair and makeup, and practiced tirelessly to perfect their appearance. Looking good wasn't just a preference; it was part of the job description.
But that's not all—these young women also had to acquire vital skills such as first aid and emergency procedures, ensuring they could assist passengers in any situation, no matter how dire. The responsibility was immense, and the training was demanding.
When you look back at the airline workers of the 1960s, it's impossible not to be captivated by their elegance and poise. Those eye-catching outfits and impeccable grooming were the hallmark of an era when flying was an experience to remember. Oh, how we wish these stylish ensembles still graced the skies today!
Julie Newmar: The Purrfect Catwoman of the 1960s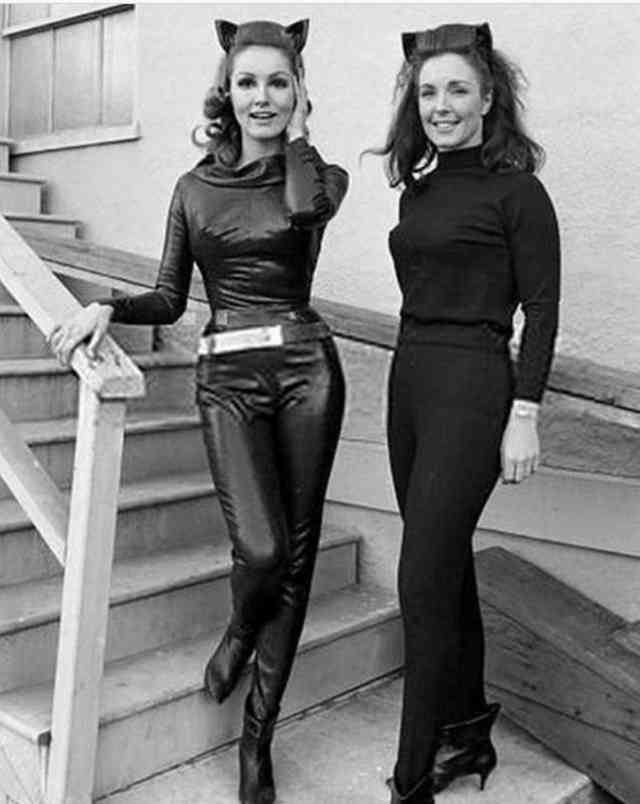 source: pinterest
Let's step back in time to the swinging '60s, a decade of groovy fashion and iconic television. Among the memorable characters, one stands out—the purrfectly cool and kitschy Catwoman. And in the pantheon of Catwomen, Julie Newmar reigns supreme.
Julie's portrayal of the feline femme fatale was not just captivating; it was unforgettable. But getting into character for her role alongside Adam West's Batman came with its own set of challenges, including some serious bodily harm. Julie fearlessly revealed, "Her nails were made of metal. They pinched my fingers… In those days, who cared? When you're performing, pain never matters."
So, how did this charismatic actress land the iconic role of Catwoman? With her trademark wit, she quipped, "Well, the body fit the work, and the work fit the body." It was a match made in television history, and Julie Newmar's portrayal of Catwoman remains etched in our memories as the purrfect embodiment of this iconic character.
Farrah Fawcett: The Irresistible Star with a Wicked Sense of Humor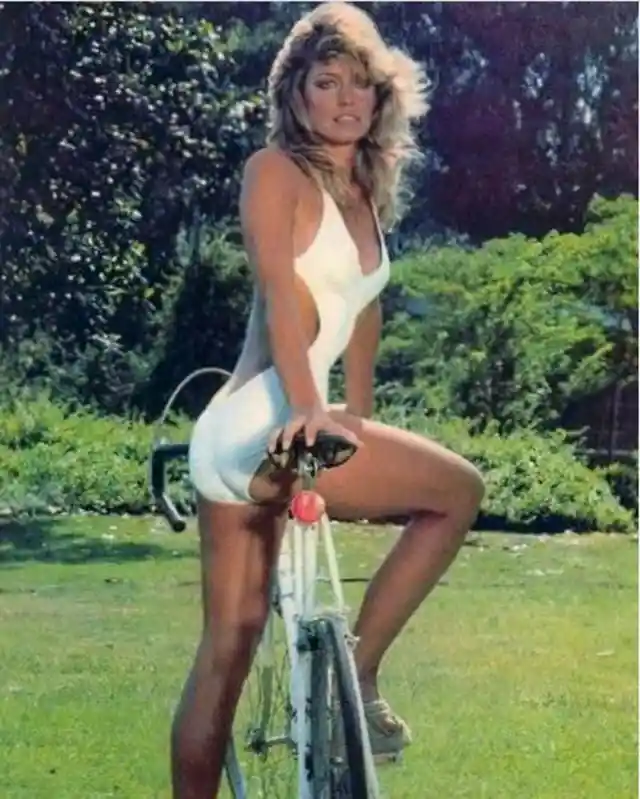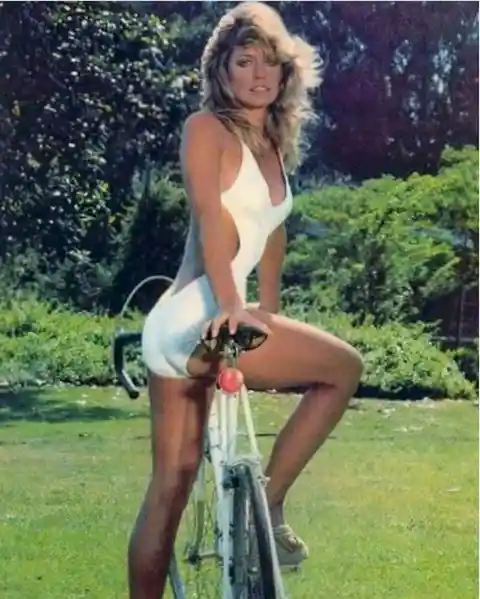 source: pinterest
1970s, a decade of disco, bell-bottoms, and iconic television. In the midst of it all, one star shone brighter than the rest—Farrah Fawcett, a once-in-a-lifetime talent who could effortlessly capture your attention.
From her unforgettable role in "Charlie's Angels" to her successful modeling career, Farrah was more than just a pretty face. In fact, those who worked with her on various television projects marveled at her versatility. What's more, she had a remarkable secret up her sleeve—she did her own hair and makeup, even during the iconic shoot in which she donned that famous red bathing suit.
But Farrah wasn't just a stunner; she had an infectious sense of humor. According to her friend and "Charlie's Angels" co-star, Jaclyn Smith, Farrah had a ribald wit that could crack up anyone on set.
Farrah Fawcett was a raw talent, seamlessly transitioning from modeling to movies to TV shows. There has never been another actress quite like her, and it's safe to say there never will be. She remains an irreplaceable star in the annals of entertainment history.
Yvonne Craig: From TV Pilot Hopeful to Batgirl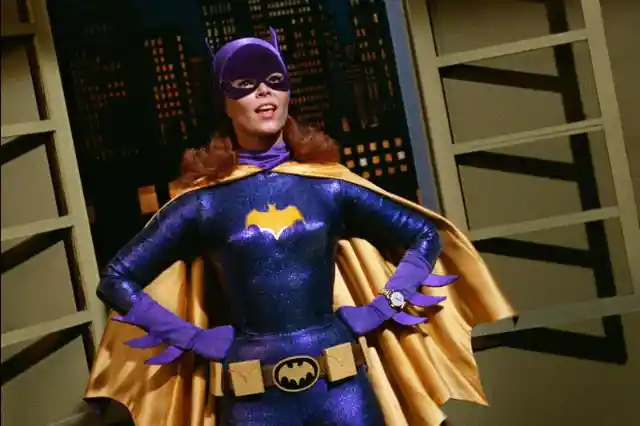 source: ABC
In the swinging '60s, the television show "Batman" was a pop culture sensation. But by the third season, producers had a cunning plan to bring in more viewers and make teenage boys swoon—they introduced Batgirl. Yvonne Craig was the actress chosen to fill the iconic boots.
Surprisingly, Yvonne had never even seen "Batman" before landing the role of Batgirl. She had done a couple of TV pilots that didn't quite take off, but her headstrong determination won her the part. As she candidly put it, "I had never seen the show, even though everyone was crazy about it. Even when I was shooting Batman, I had a black and white TV. I'm a book reader and not much of a TV watcher, so I just didn't pay attention. The producer, William Dozier, said, 'I'm sure you've seen our show,' and I said, 'Actually, I haven't, but if I get the part, I'll spend the summer watching re-runs so I know how I'll fit into the scheme of things.'"
Yvonne Craig's journey from TV hopeful to the iconic Batgirl remains a captivating tale of talent and determination.
Angelique Pettyjohn: The Green-Haired Star Trek Sensation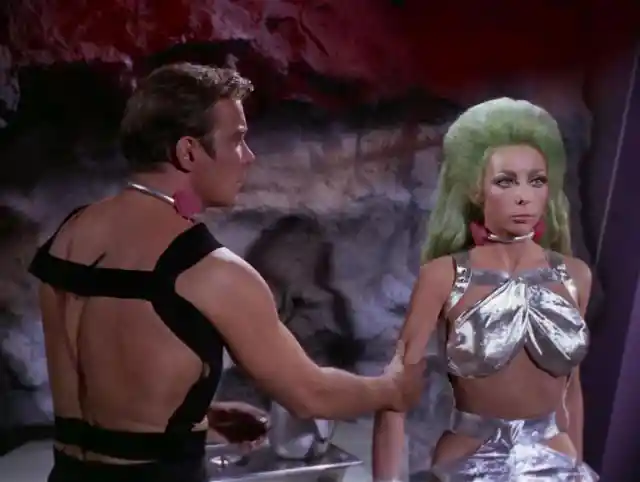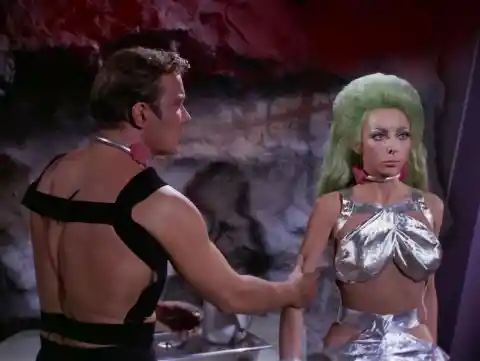 source: CBS
In the swinging '60s, even if you weren't glued to your TV watching "Star Trek," there's no way you could forget the green-haired beauty in that unforgettable tinfoil bikini. Her name? Shahna, portrayed by none other than Angelique Pettyjohn, a former Vegas showgirl who added her own kind of sizzle to the final frontier.
"Star Trek" wasn't shy about featuring super sexy and stylishly dressed women. It's a wonder how they managed to get past the TV censors. More often than not, these space sirens found themselves in Captain Kirk's charming company. After all, being the captain of a starship had its perks.
For every young nerd growing up, these one-and-done space babes on "Star Trek" were more than just characters; they were iconic figures who left an indelible mark on pop culture. And let's be honest, even adult nerds would tip their hats to these unforgettable starship companions. Angelique Pettyjohn's portrayal of Shahna was just one of many that made "Star Trek" an unforgettable voyage.
Goldie Hawn: The Bikini-Clad Comedy Queen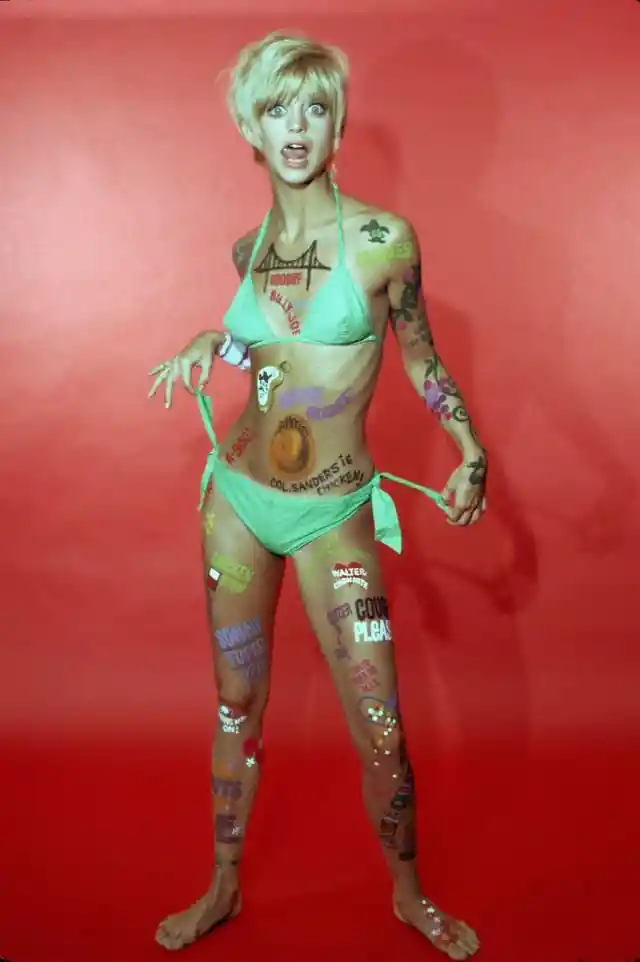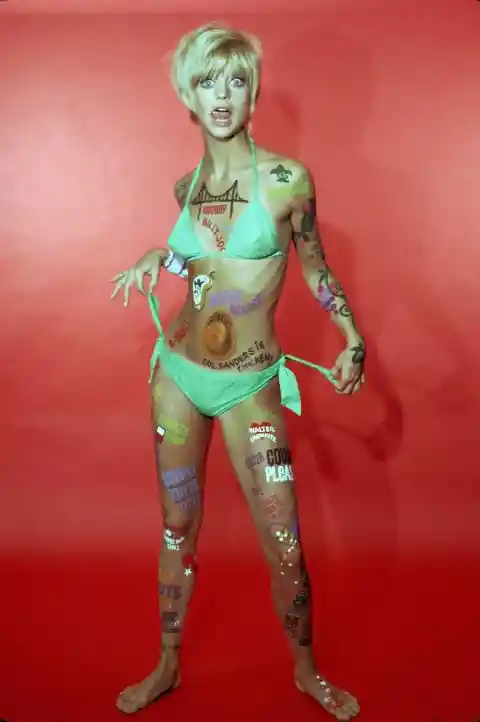 source: reddit
Back in the swinging '60s, Goldie Hawn burst onto the scene, proving that she was more than just a pretty face. With her infectious humor and irresistible charm, she quickly became a comedy sensation in both film and television. But it was her debut on "Rowan and Martin's Laugh-In" that turned her into a bikini-clad goofball, captivating audiences everywhere.
Goldie Hawn brought a dose of sex appeal to the show, but what really set her apart was her comedic talent. Amidst the laughter and zany antics, Hawn proved herself to be just as funny as her fellow cast members. Her infectious giggles and magnetic presence worked their way into the hearts of viewers, leaving an indelible mark on the world of comedy.
Even if you don't remember the show itself, you've undoubtedly come across footage of Goldie Hawn's unforgettable moments, reminding us all why she's a true comedy queen.
Groovin' Through the 1970s: When Dance Floors Ruled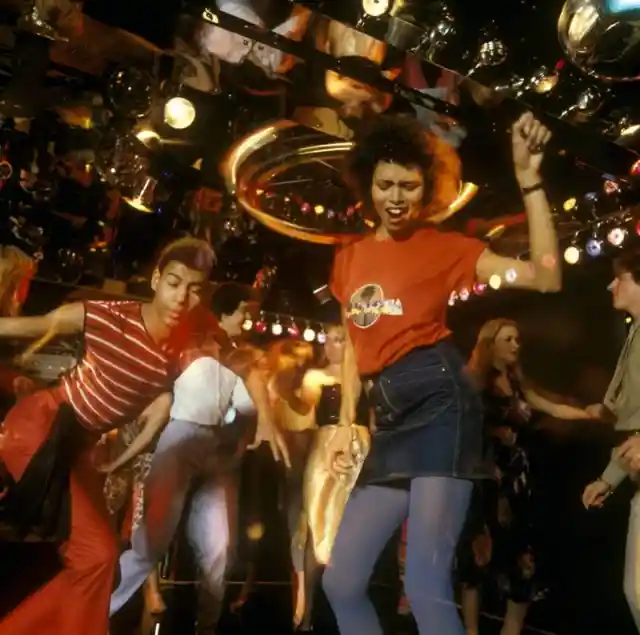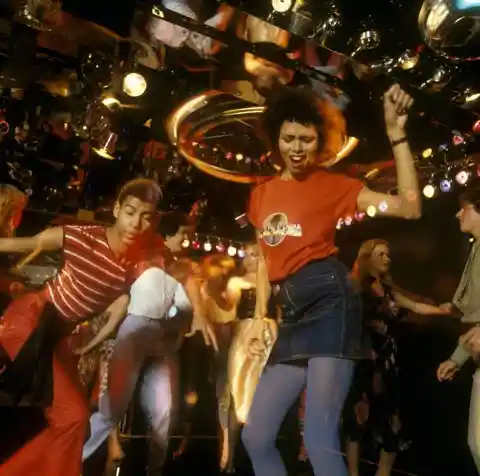 source: getty
In the 1970s, there was a rhythm in the air unlike any other—a beat that beckoned people from all walks of life to step onto the dance floor. It was the era of disco balls, funky tunes, and the electric slide, and the city's clubs were the place to be.
If you had the right moves and looked the part, you could become an instant sensation beneath the glittering lights of the discotheque. The velvet rope was the only barrier between you and stardom, and the dance floor was your canvas for self-expression, limited only by your own inhibitions.
Stepping into a club was like entering a different world, a world where you could shed the weight of daily life and let loose. It was a place to release pent-up energy and embrace the freedom of movement, all to the soundtrack of the era's most infectious tunes. The 1970s dance floor was where the magic happened, where people came together to groove and create memories that would last a lifetime.
Roller Disco and Playboy Stardom: The Fondren Saga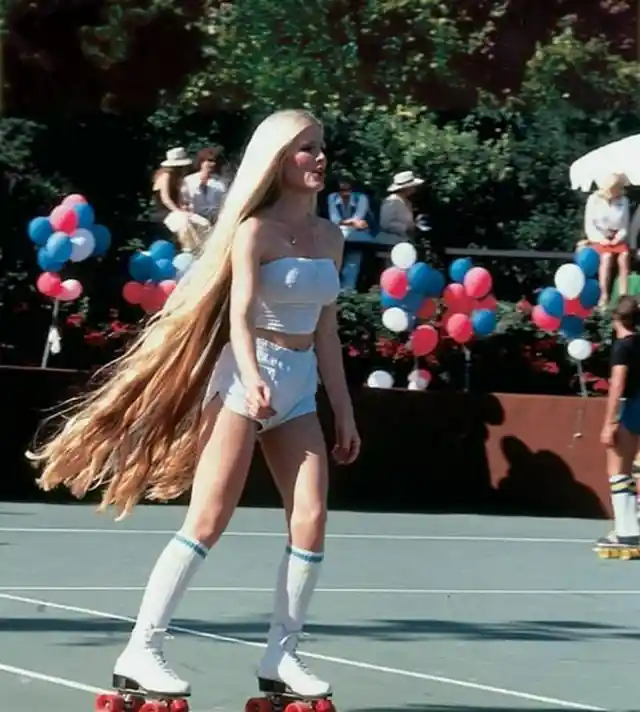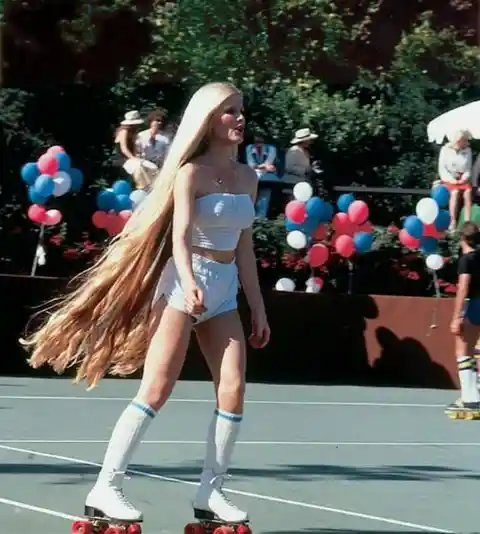 source: pinterest
A roller disco pajama party sponsored by none other than Playboy. What could possibly go wrong, right? Well, maybe a few hair-raising moments, like getting your luscious locks tangled up in those roller skate wheels. Yes, believe it or not, that's actually Janet Fondren's real hair, and she had a non-negotiable condition when she signed her contract with the magazine – her long, flowing mane was here to stay.
Janet, the quintessential long-haired beauty, wasn't your typical Playboy model. She was working as a waitress at Gallagher's steak house in Beaumont, Texas, when fate intervened in the form of photographer Robert Scott Hooper. With hair that cascaded all the way down to her knees, she stood out from the crowd and caught Hooper's discerning eye. In no time, she became an instant sensation.
Playboy magazine wasted no time in recognizing her allure. In September 1977, Janet Fondren graced its pages as Playmate of the Month. But that was just the beginning of her Playboy journey. In 1978, she ascended to the coveted title of Playmate of the Year, solidifying her status as an icon in the Playboy universe.
Jamie Lee Curtis: A Twist of Fate and a Mother's Concern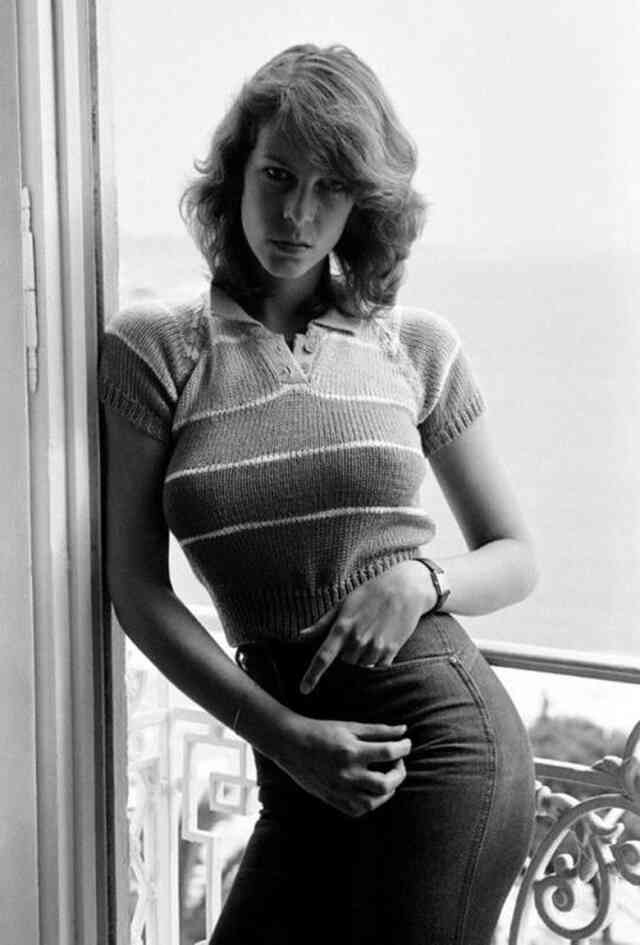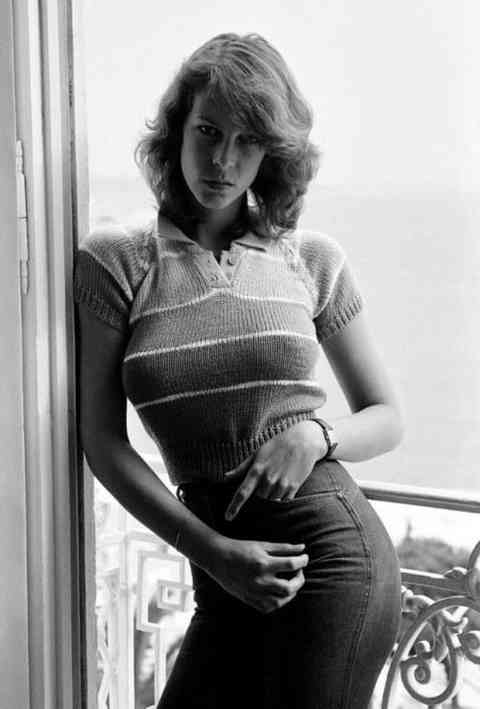 source: reddit
Back in the 1970s, things were a bit different when it came to Hollywood legacies. It might not come as a surprise today when a celebrity's child decides to follow in their famous parent's footsteps, but for Jamie Lee Curtis, daughter of the iconic Janet Leigh, her mother had other plans.
Jamie Lee's early foray into the film industry was far from smooth sailing. It wasn't until she landed her breakout role in the horror classic "Halloween" that her star began to rise. However, it almost didn't happen. You see, at the time, she had prior commitments that seemed to stand in her way. But, as fate would have it, she received an unexpected lifeline in the form of a pink slip – she was fired from her job, and suddenly, her path to becoming a movie star was clear.
Reflecting on her mother's initial reluctance, Jamie Lee Curtis shared in a 2018 interview with The New York Times, "My mother was protecting me from being a child in the movie business. Later, I got a part on the ABC sitcom 'Operation Petticoat.' I was fired, and I was devastated. Had I not been fired, I wouldn't have been available for 'Halloween.' As my Jewish family would say, it was bashert — meant to be. I didn't give it a second thought that it was a horror movie, and my mom had been in a horror movie." And thus, a legendary career was born.
1960s Cigarette Ads: A Blast from the Past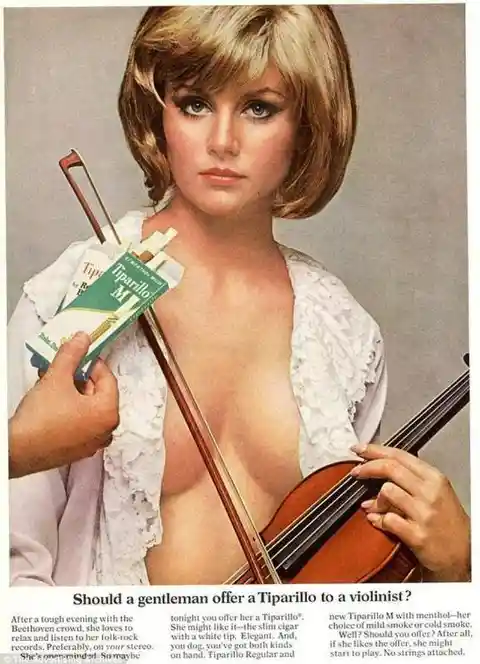 source: reddit
Ah, the 1960s – a time when cigarette ads could make smoking seem as alluring as a sultry night with a young violinist. While you won't find advertisements like this gracing billboards today, back then, it was fair game to associate a "tasty drag" from a cancer stick with the height of sophistication.
But the real gem of this ad isn't just the image of a scantily clad young woman. It's the cheeky copy at the bottom of the page that encouraged smokers to boldly offer a smoke to every gal they encountered during their nights out on the town. After all, what did you have to lose by extending that friendly gesture?
It might seem a tad absurd by today's standards, but this ad serves as a fascinating snapshot of the advertising tactics of yesteryear, where smoking was somehow seen as the epitome of cool and class.
Debbie Harry: The Epitome of Cool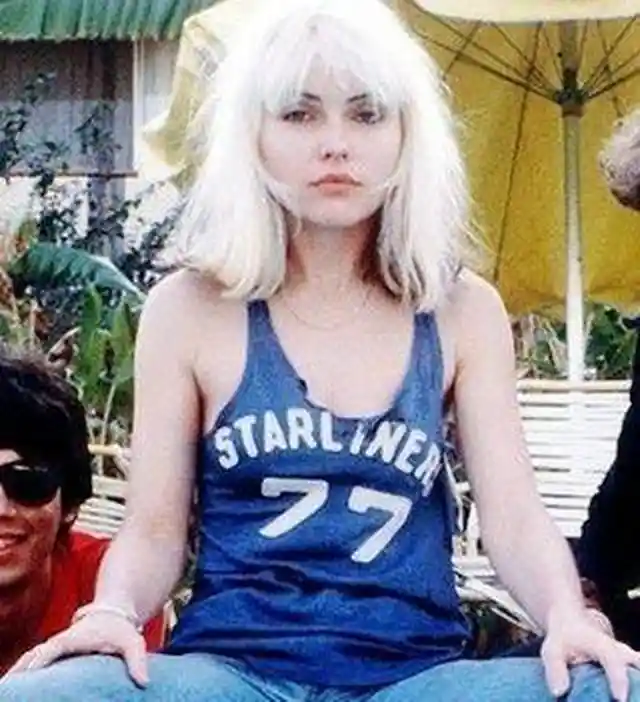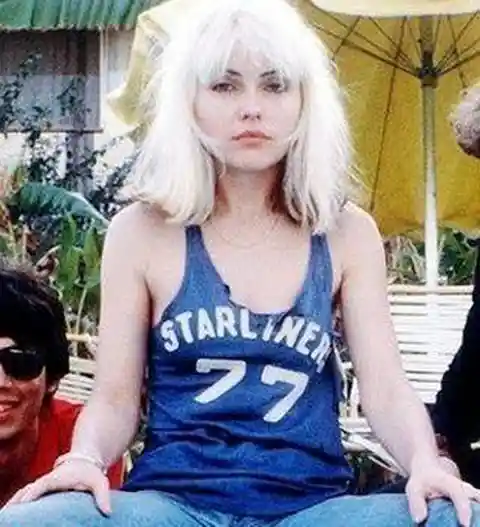 source: pinterest
Debbie Harry – the embodiment of coolness. She's not just a babe; she oozes that unique blend of confidence and charisma that makes you want to share a beer with her or take her out on a date. Plus, she's a part of one of the most iconic bands in the history of music.
Blondie, the band that effortlessly transitioned from the gritty New York punk scene to mainstream pop success. However, not all their reviews were glowing. When asked about them, Harry nonchalantly admitted that she steered clear of reading them. As she put it, "I always found it sort of disturbing to read stuff while I was doing shows—all of a sudden, the things I'd read would flash in front of my face in the middle of a song, and I'd forget where I was, and go [gasps]. Like shock therapy."
Debbie Harry, a rock 'n' roll icon who didn't let the critics' words disrupt her electrifying performances.
A Pint and a Tale: Inside the English Pub Scene of the '60s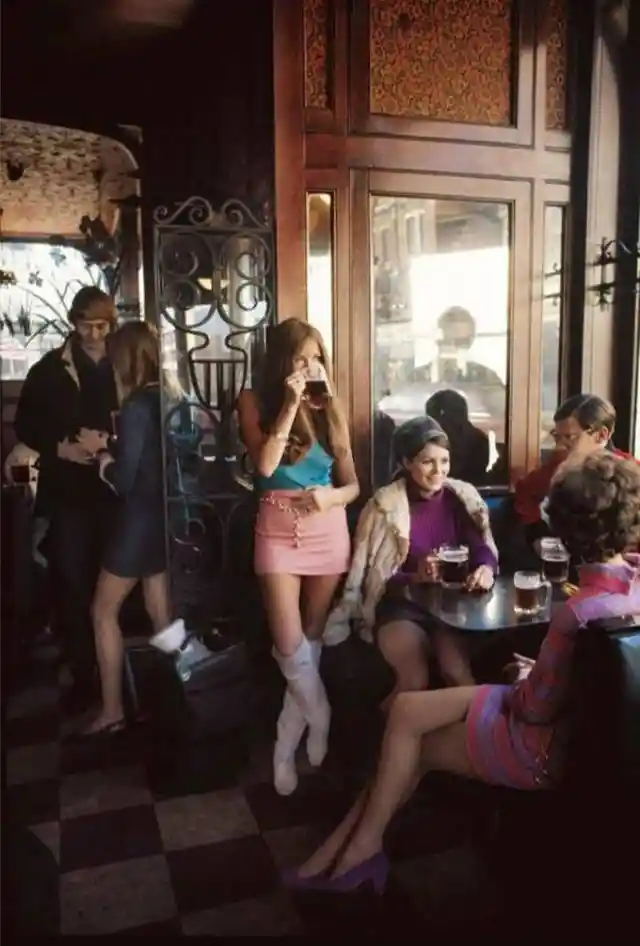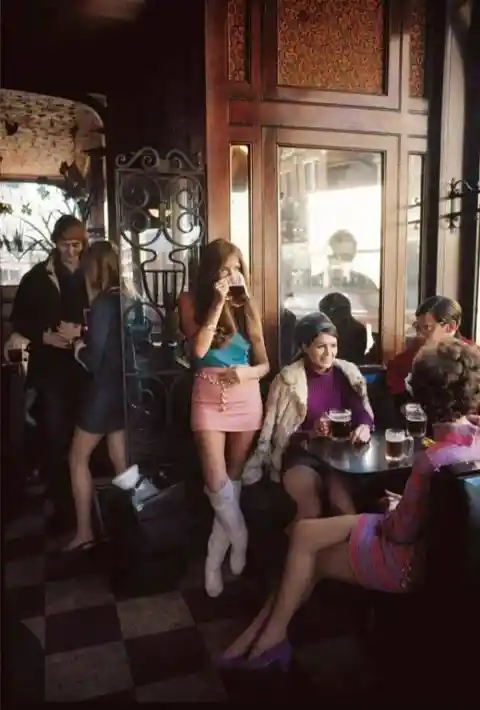 source: reddit
In England, the pub scene is a breed of its own. Pubs are more than just places to down pints; they're hallowed establishments where friends and families convene to share tales of yesteryears.
During the swinging '60s, you'd find a myriad of pubs catering to different tastes. Some were havens for artsy tipplers, while others welcomed the working class with open arms. These weren't your run-of-the-mill bars; most pubs offered a hearty menu to ensure you never sipped on an empty stomach.
Take a look at this bustling London pub captured in a photo—a snapshot of English drinking culture that sets it apart from the rest of the Western world. In England, a midday pint is as common as a morning cup of coffee, and it's a tradition that never seems to go to one's head. Cheers to that!
Dancing into the Groove: Iconic Moments from the Venice Beach Rock Festival, 1968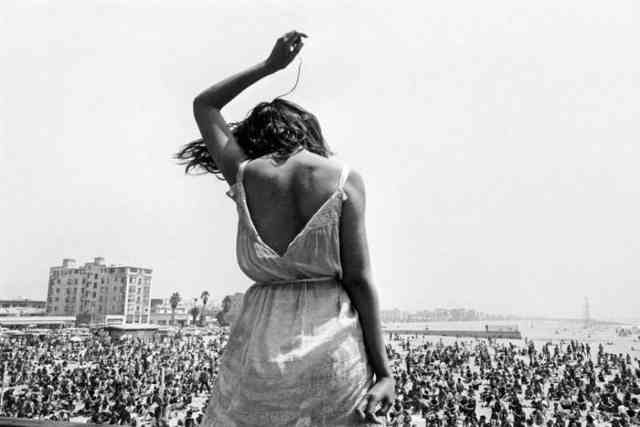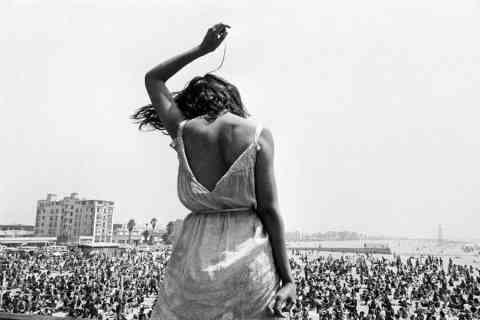 source: dennis stock
In the world of music festivals, there's no image quite like this one from the Venice Beach Rock Festival in 1968. The man behind the lens, Dennis Stock, wasn't aiming to focus on a single dancer's exuberance; instead, he sought to capture the collective spirit of the audience.
In a stroke of serendipity, he inadvertently immortalized the zeitgeist of an era. A carefree and groovy festival-goer leaped onto the stage, becoming the unexpected star of one of the most iconic music photographs ever taken. It's a snapshot of a time when inhibitions were shed, and the spirit of the 1960s and '70s was celebrated with wild abandon. These unforgettable moments continue to remind us of the incredible days gone by.
Blast from the Past: College Life in the 1960s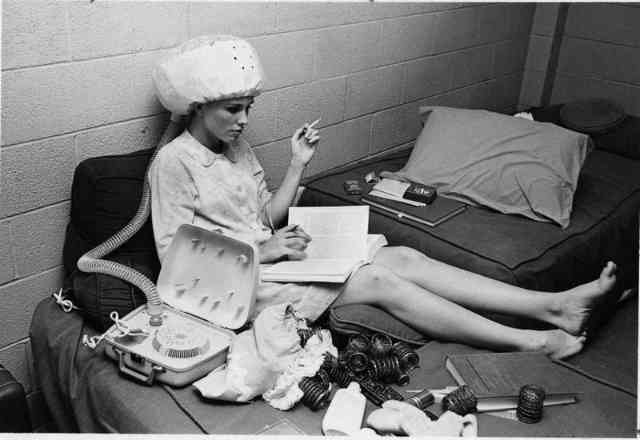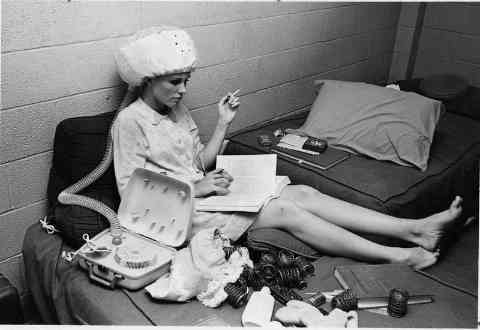 source: reddit
Ah, college life in the 1960s! Term papers, quirky roommates, and the perpetual quest to look sharp for those early morning classes—it was a time when everything felt wild and adventurous. But what truly transformed the college experience during that era were the cutting-edge technologies that began to emerge.
From space-age hair dryers that looked like they belonged in a sci-fi film to massive computers that operated on punch cards, science was propelling college students into the future every single day, right before our very eyes.
Amidst all the academic hustle, students found a bit of reprieve with the Lady Sunbeam. This portable hair dryer was a game-changer, simplifying the art of looking good. Just plug it in, place the dome over your hair, and let the magic happen. College life had never been so groovy!
The Swinging Sixties: The Rise of the Miniskirt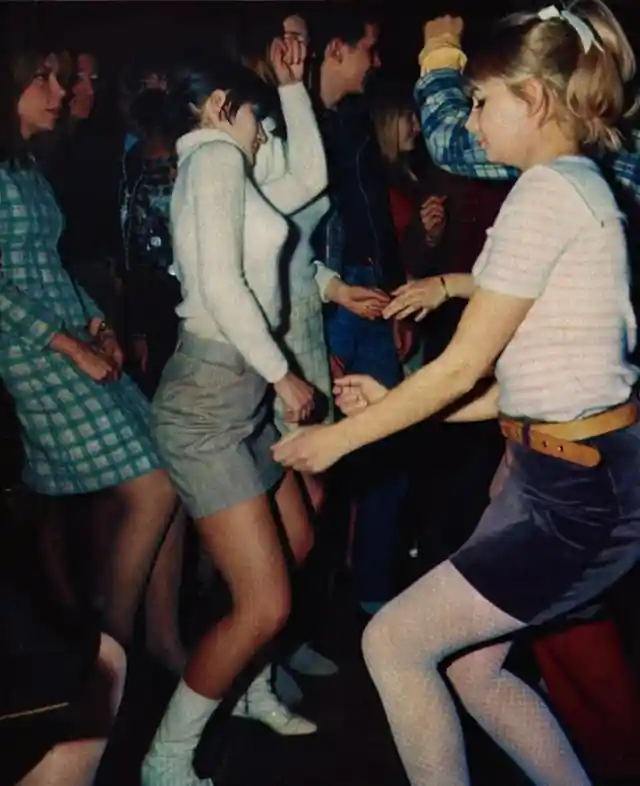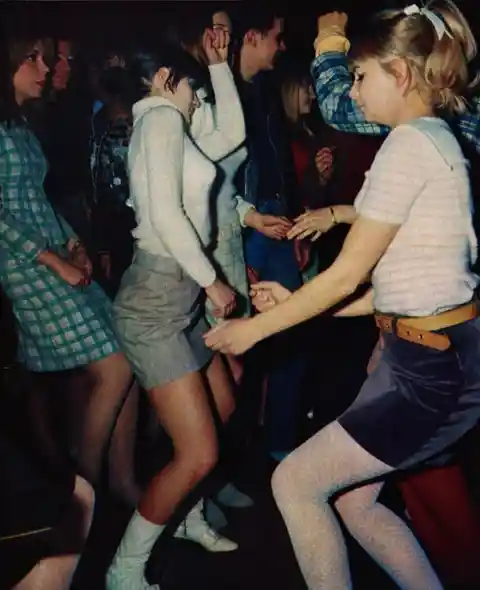 source: reddit
In the swinging sixties, the world of fashion underwent a total transformation. Hair grew long and carefree, and traditional dresses vanished, making way for something more daring—the iconic miniskirt. And at the forefront of this fashion revolution was none other than Mary Quant, the English style maven who understood the desires of young women like no other.
The miniskirt was a revelation, capturing the hearts of young women who adored its audaciously short hemline. For the guys, it was a visual treat, providing an enticing glimpse of bare legs. But the miniskirt wasn't just a piece of clothing; it was a symbol of youth rebellion and a statement both in politics and fashion. Now, that's what I call groovy!
Shirley Muldowney: The Drag Racing Trailblazer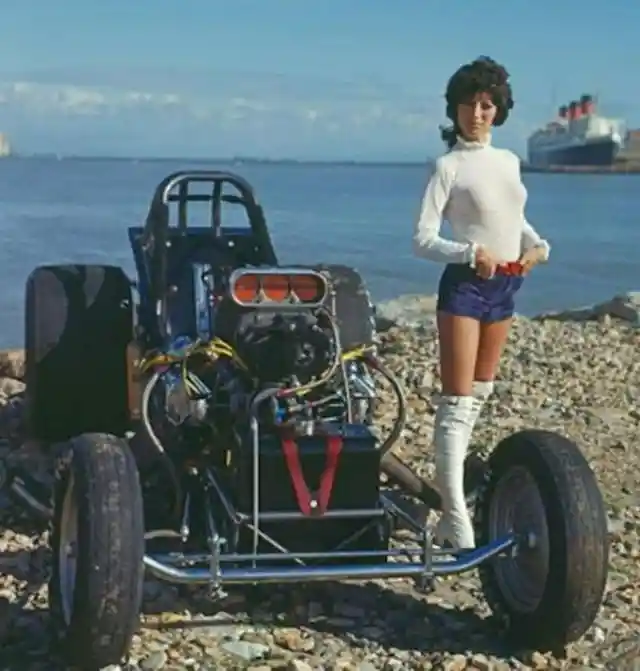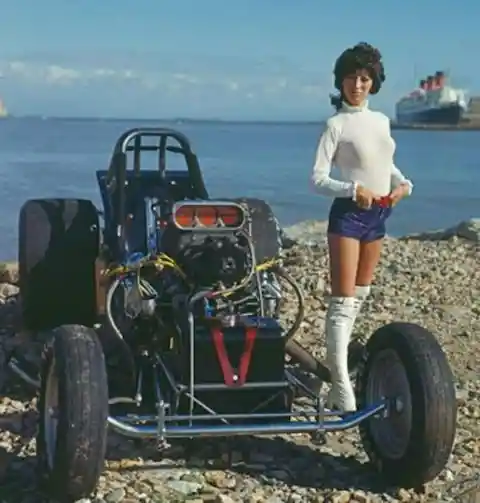 source: reddit
Back in the late '50s, when the world of drag racing was dominated by men, a fearless trailblazer by the name of Shirley Muldowney hit the asphalt with a twin-engine car that left jaws dropping and raised eyebrows all around. Shirley was determined and fearless, and she raced wherever she could, showing the boys and girls that she meant business.
But, let me tell you, it wasn't all smooth cruising for Shirley. The Funny Car, in particular, gave her a run for her money. In the early '70s, she faced not one but two harrowing accidents while driving these unpredictable machines. First, in 1972, she had a terrifying crash at Ohio's Dragway 42, and just a year later, her front-engine car decided to go up in flames mid-race.
However, Shirley was not one to back down. In 1977, she etched her name in the history books by becoming the first woman to clinch the NHRA Winston Top Fuel Championship. Now that's what I call breaking barriers with burning rubber!